Tyga and Kylie Jenner were spotted partying at the same nightclub in Los Angeles on Saturday night.
While this could be mere coincidence, this would be the second coincidence in the past week, and fans are not buying it. The narrative among fans now is that the old flames have reunited and might be dating again. Urban Islandz previously reported that both Tyga and Kylie Jenner shot down reports that they secretly hooked up a hotel in Los Angeles after her split with Travis Scott.
According to a tweet sent out by Kylie, the internet has completely blown things out of proportion and that she only went to the hotel to drop off two friends. Tyga was conveniently recording music at a studio there. On Sunday, TMZ posted a video of Tyga leaving The Hyde Lounge in West Hollywood in his red Ferrari Italia.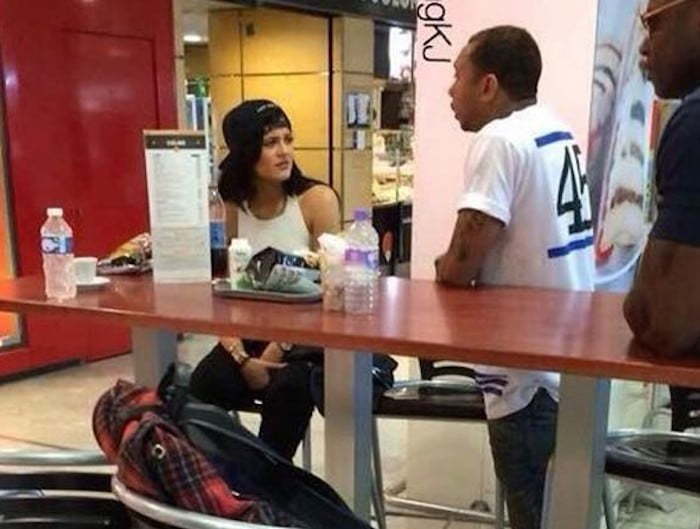 Surprisingly, Kylie Jenner showed up at the club with Khloe Kardashian via a party bus. The Kardashian/Jenner sisters arrived at the club around 1 AM, and Tyga was already there partying with his friends. The "Taste" rapper left the venue around 2 AM with one of his pals. This marks the second occasion over the past week that Tyga and Kylie were spotted at the same location.
They both want us to believe that this is a mere coincidence, but it's happening too frequently to be just that. According to TMZ, the former love birds are hooking up again for sure, and fans seem to be drawing the same conclusion. Days after the story hit the net of their hookup, Tyga was spotted out on a date night with model Emily Caro. The two are reportedly dating, so it would be interesting to see if he is also dating Kylie Jenner at the same time.