Tekashi 6ix9ine's alleged kidnapper is speaking out.
The trial for two Nine Tr3y Gangsta Blood members has been at the forefront for the last several weeks due to high-profile rapper Tekashi 6ix9ine being at the center of the case. The New York rapper testified against two affiliates, Anthony "Harv" Ellison and Aljermiah "Nuke" Mack, who are accused of robbing and kidnapping 6ix9ine in 2018. A day before a jury is set to deliberate on the trial, one of the defendants has released a public statement doubling down on maintaining his innocence.
In a statement given exclusively to Complex, the legal team for "Harv" Ellison said the alleged kidnapping that was caught on tape was all a hoax for publicity and that the prosecution didn't provide enough evidence during the two week trial to prove Ellison's guilt. "The witnesses have been primarily NYPD or government cooperators, primed in advance to weave together a loose storyline that indicts Ellison in crimes that lack evidence," the statement read from Eliison's representative Camille Cushman. "False narratives have been established by relying on incongruent witness stories and without citing hard evidence."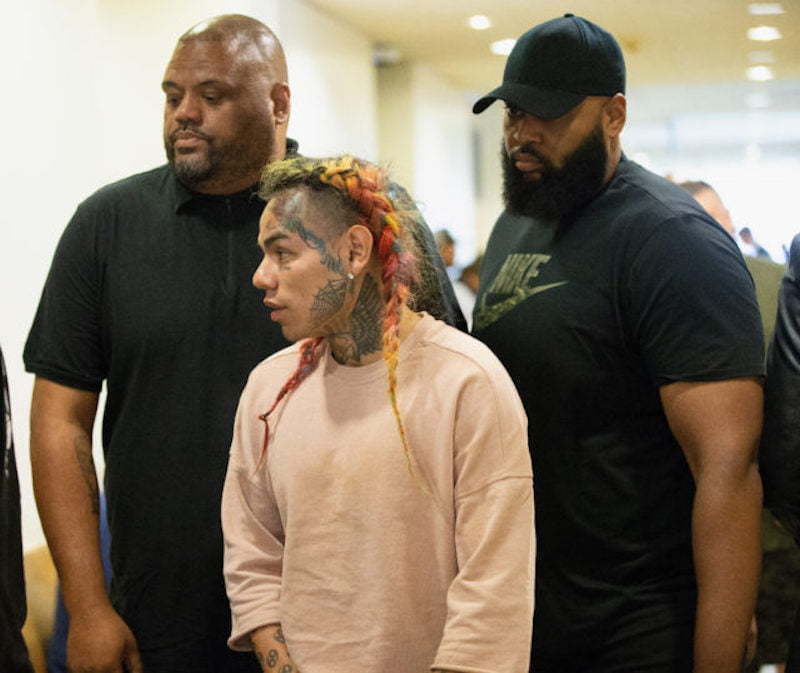 The statement went on to accuse the prosecution of playing on the jury's possible fear of gangs in order to render a guilty verdict, instead of producing direct facts that would prove Ellison committed the crimes he is accused of.
Words from Ellison himself were also included in the statement in response to prosecutors' claim that Daniel "6ix9ine" Hernandez would have been too embarrassed — after a kidnapping and robbery left him injured — to have made the whole thing up. "Danny didn't care if the stunt could be taken as embarrassing, he thought it was believable," Ellison said. "He said it would even make some people feel bad for him, which was good after all the trolling he had done. It worked, even Shotti bought it."
Jurors are expected to reconvene Wednesday to begin deliberations. After which, Tekashi will be sentenced and learn if his cooperation worked out in his best interest.