Power star Michael Rainey Jr, aka Tariq, is a huge fan of Vybz Kartel and he got a special birthday shout-out from the Worl'Boss.
It seems Vybz Kartel has been catching up on all the latest Power episodes while incarcerated. The dancehall deejay used his Instagram platform to send a birthday shout-out to hit tv show Power's Michael Rainey Jr. The actor stars as Tariq St. Patrick, the son of the lead character Ghost, in the popular Starz series.
Michael Rainey, Jr., was born in Louisville, Kentucky on September 22nd, 2000. He was raised on Staten Island in New York. However, the actor identifies as Jamaican. The actor visited the island back in 2018 where he then applied for his Jamaican citizenship. His Jamaican lineage comes from his mother's side. She was born on the island but immigrated to the United States when she was 12 years.
During his visit, he sat down for an interview with OnStage, where he went into details about his Jamaican roots. Michael revealed that he travels to Jamaica quite often because of his mother's side of his family still has a house in the island. He also mentioned that he visits the island to relax and to participate in charity work.
"I am here just to enjoy myself, my family has a house here, and I am also here to do a charity for multiple houses," he stated. The actor explained that although he was born in America, his household had very strong Jamaican influences while growing up. The actor also pointed out that he is recognized in Hollywood as the Jamaican kid.
The actor receives a lot of hate for his role on the TV show as many fans take it way too personal. In the show, Tariq is responsible for a lot of things going sideways, including the death of his sister Raina, which makes it even more impressive that Vybz Kartel would give him a shout-out. I guess he's one of those people who can separate the art from the artist.
In his Instagram post, the dancehall deejay posts a photo of Michael from the show with the caption, "HAPPY BELATED G-DAY MICHAEL!!!! MORE LIFE N BLESSINGS." The actor responded to the post, commenting, "Much love world boss, bless up."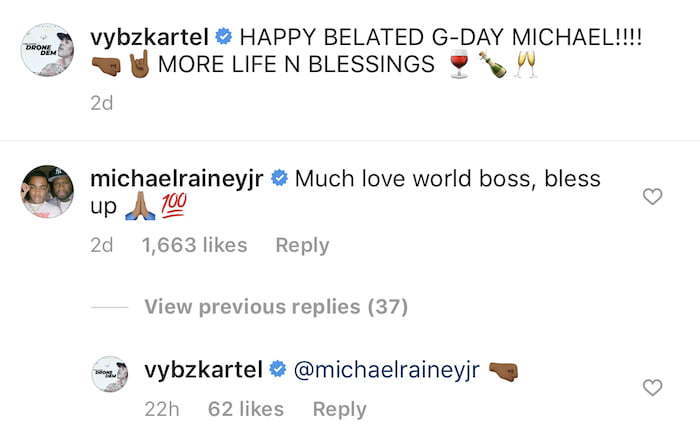 The actor has been getting a lot of birthday wishes but then there are some like myself who carry ill feelings towards him due to his role in the show. One fan commented, "shudnt tell no happy birthday more time the man mek me ignorant starr lol him nah gwaan too bad inna this season tho," while another added, "Ghost should've sen him yard about 3 years ago!!! Fix his clart early."
Another fan stated, "A fool him tek di man dem fah.. 2 mill?. Nah man.. a beaten di bwoy fi get!.. lol #itsjustatvshow!! Mi know but jah know."
While "Power" is just a TV show, Michael is that actor we just love to hate, and we have gotten way too invested. The show which was created by 50 Cent is in its 6th and final season. Let's just hope Michael gets some good deeds in before the show ends, so we don't carry over the bad blood into his next show.
Happy birthday Tariq!