Tekashi 6ix9ine may assume a new identity which includes removing his face tattoos and go into witness protection.
Possibly one of the biggest government informants in hip hop's history, Tekashi 6ix9ine may go into protective hiding which would include changing his identity and go into the witness protection program after being released from prison. New York rapper, Tekashi69, whose real name is Daniel Hernandez, testified against his Nine Trey Blood gang members this past week, and the details of his trial were pretty damning. The trial of Nine Trey Blood Gang members, Anthony "Harv" Ellison, and Aljermiah "Nuke" Mack got underway on Monday, September 16, and broke on Thursday, September 20, to be continued today.
Throughout the trial, the rapper went into extensive detail regarding the inner workings of the Nine Trey Blood gang, identifying members and giving specific information surrounding their illegal activities which included drug distribution and shootings. The rapper has also incriminated himself stating that he attempted to have rappers Trippie Redd and Casanova shot. He also confessed to involvement in the shooting of Chief Keef. The rapper went on to confirm that rappers Cardi B and Jim Jones were known blood gang members.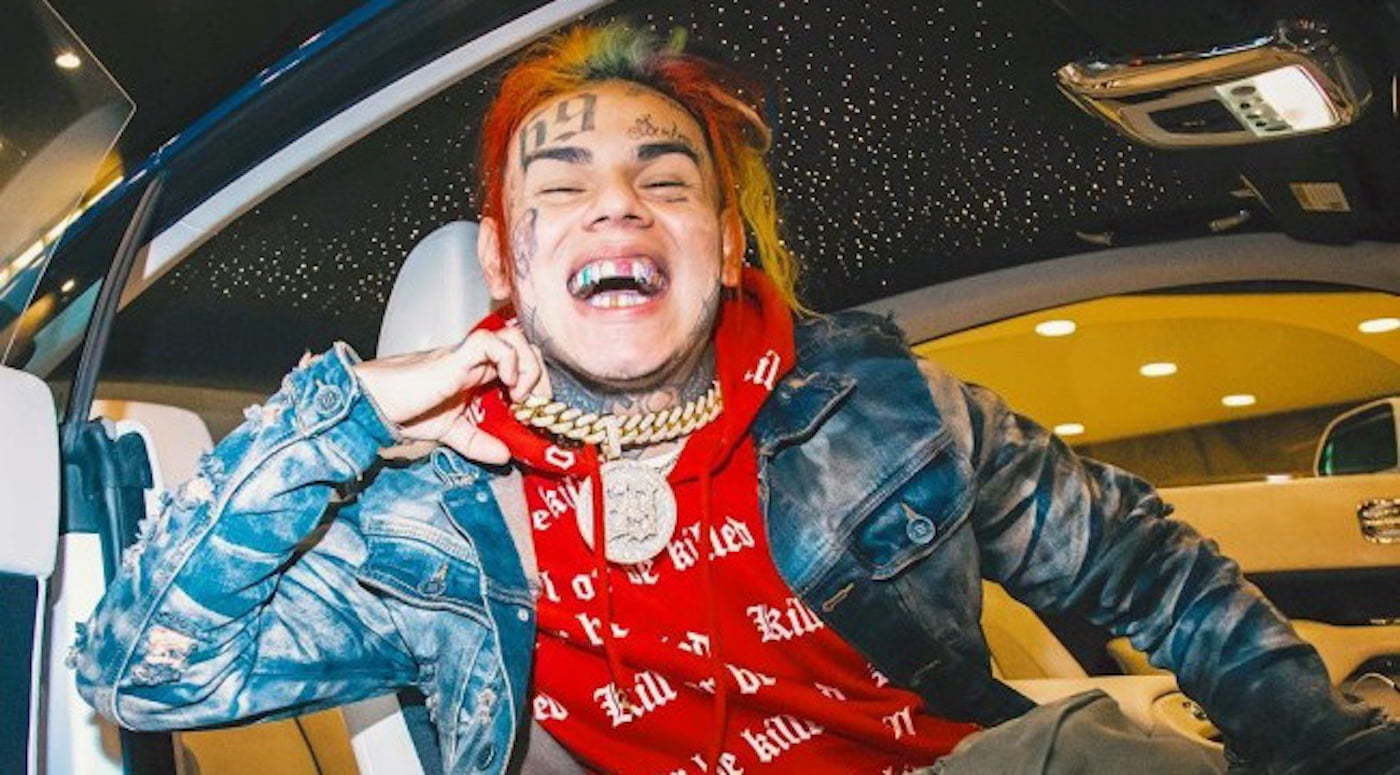 The rapper's key testimony was revealed to the public via live tweets from the in-court press. Since then, hip hop fans have been speculating what the rapper's fate will be once he is released from prison. The "Gummo" rapper has the option of going into protective custody upon his release from jail which is probably the best choice for him with all that is at stake.
Tekashi's life and the lives of his family members are in grave danger as gang members are most likely to retaliate for him snitching. His family has been absent during the trial out of fear for their safety. Tekashi was arrested back in November 2018 on gun and racketeering charges among others and faced a possible 47-year sentence. Court docs revealed that the rapper made the decision to cooperate with the feds the day immediately following his arrest. However, the deal was not made public until January of this year. His cooperation could see him being released from prison as early as 2020 with time served.
Although fans are anxious to see the rapper return home to release new music, prosecutors have indicated he could enter the witness protection program which is the norm with federal informants. Other notorious witnesses, including mobsters and hitmen, have respectively started over as bakery owners and doll salesmen, two former federal law enforcement officials told the New York Times.
"Despite how connected we are, and the appetite for social media content in this country, there are places where, if this kid gets a haircut and wears normal clothes, no one would know or care who he is," Jay Kramer, a former FBI official who worked on organized crime cases told NY Times.
According to Eric Skelton from Complex, "The program is extremely effective at protecting high-risk witnesses, and the US Marshals Service says that "no Witness Security Program participant, following program guidelines, has been harmed or killed." If 6ix9ine chooses this option, we would never hear from him again and his music career would be completely over."
In an alternative aspect, the rapper could attempt to release music while in witness protection. Jessica McKinney from Complex shared her thoughts on the matter, "He could potentially figure out a way to get new music to fans. He would need to do it in secret, and this option would likely violate the program's guidelines. But there is precedent for people in witness protection who have released books and other material."
She added, "This would allow him to conceal his identity and location from anyone who wanted to harm him, and he would be able to stay with his daughter while still giving himself a chance to deliver music to fans (although it would be a riskier option than completely disappearing). Of course, since he would be in hiding, touring and live performances, where artists make most of their money, would be impossible. He also wouldn't be able to use social media, which was a driving force in his career, and his credibility would be destroyed in the wake of his testimony. Music released from hiding would draw intrigue and attention at first, but it's unlikely he would be able to sustain a career this way."
Social media is already speculating what the rapper would look like while in witness protection. He would have to dye and cut his signature rainbow ponytails and he would have to undergo an unimaginable amount of laser surgery to remove his distinctive tattoos.
Fans have been commenting on a photo of his new look stating, "Yall just blew up his look," while another added, "N**ga has a whole 69 tatted on his face."
2020 is not that far off, so fans won't have to wait too long to find out what becomes of the rapper. The trial which resumed today will continue for approximately 2 more weeks. Fans are anxious to see if the rapper will re-take the witness stand during that time.