King of the Dancehall, Vybz Kartel, makes his side known and it's the 6ix side.
Dancehall has been turned all the way up for the past few weeks with various clashes, drama, who's dating who, who's music is better? Just a non-stop circus at this time and fans are here for it. Arguably the most exciting thing so far has been the beef between Vendetta and 6IX, namely Alkaline and Squash. The two have unleashed a crazy back, and forth all-out war with each other and fans have been forced to pick a side. Many elements have been incorporated in the war, with fans destroying props of either artiste and posting multiple videos repping their side. Some fans have even taken to violence posting videos containing weapons and making threats.
However, the lyrical aspect of the war has recently gotten sweeter with the addition of other participants such as Chronic Law from the 6IX, Jahvillani from Wileside and Gage. It is MVP Jahmiel's latest song though, seems to have drawn Vybz Kartel out. The boss has remained quiet the entire war and just looked on from the sidelines. When Jahmiel released his song "Murderous," it took things to a whole new level.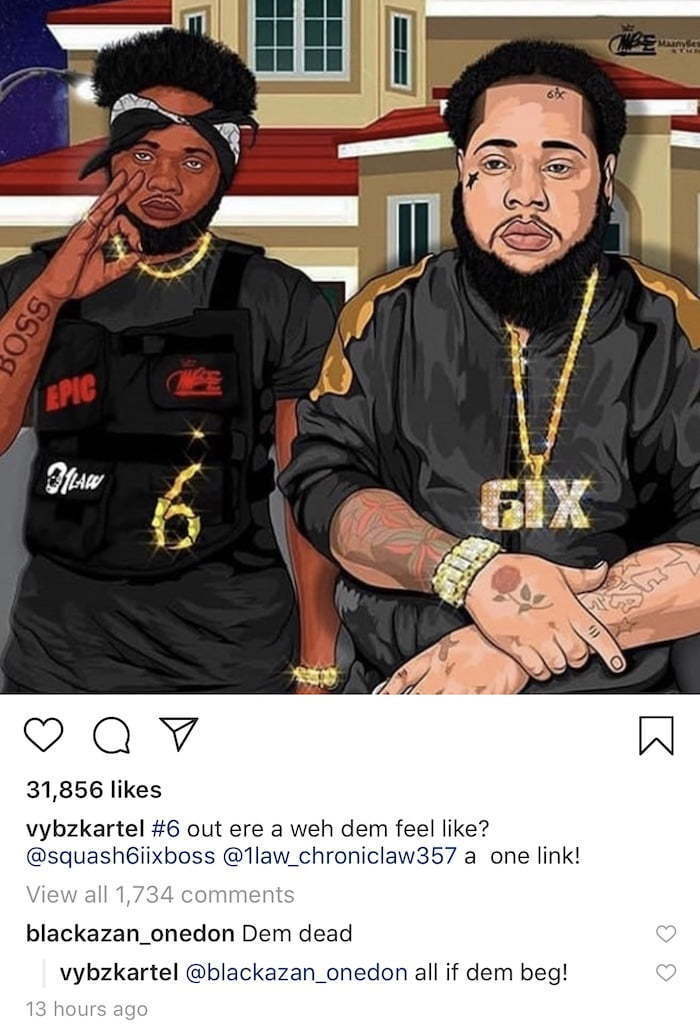 The lyrical assault he launched on Chronic Law was second to none. Each line of his song connected with Chronic Law's head. He also took a direct hit at Vybz Kartel deejaying, "them teacha shouldn't left the students."
Well, Vybz Kartel is making it known that he may be far away, but he's still here, and he stands firm with the 6IX. The deejay took to Instagram and shared a cartoon portrait of Chronic Law and Squash. The post was captioned, "#6 out ere a weh dem feel like? @squash6iixboss @1law_chroniclaw357 a one link!"
Squash responded to the post commenting, "Dem nuh smart dem nuh know logic's?? Drone we a drone dem me fadda."
While Chronic Law added, "Real out here mi g @vybzkartel Fully Gaza Fully 6ixx #G6ixx @squash6iixboss."
At this point, they all need to come together and drop one big medley. Gaza, Gully, MVP, Wileside, 6IX, Genahsyde and everything else in between. Wouldn't that be the nicest day?