Ladasha Francis, more popularly known as Mackerel, came to our attention at the top of 2019. Her rise to fame probably being the most interesting one in Jamaican history, she went viral after posting a video glorifying her skills in "Tekin weh people man."
Since that video went viral, we witness Mackerel's steady rise to stardom, so it's safe to say that she has surpassed her "15 minutes of fame" and now she is putting the dancehall community on notice. It wouldn't be Jamaica if she didn't turn her popular slang into a song, in April of this year she released her "Tek Weh People Man" single, her first produced by Burn Dem Records. A song which many people didn't take seriously and mainly viewed it as Latasha "trying a ting," little did they know. It was shared all over social media and was doing its rounds on the airwaves.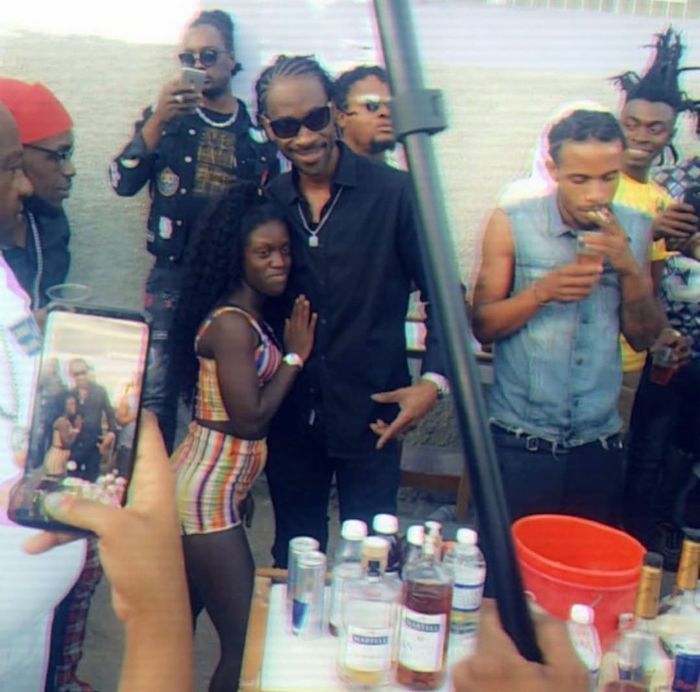 Unfortunately, not everyone was rooting for Mackerel. Prime Time radio host Jenny Jenny made distasteful comments towards the young mother in an interview. "Ladasha, it is prostitution that you are doing. When your son say to you: 'Mommy, why have you decided to be a prostitute?' What are you going to say to him?" the radio host said.
Mackerel demanded an apology from the radio host who in turn was facing backlash for how she treated the new internet sensation.
Then came the On Stage interview where she tell-all, including about her upbringing. She spoke about her early life, her relationship with her mom and even broke down in tears during the interview as she recounts past abuse. Many got to know her story and fell in love with her comedic personality; still, some detractors remained. That, however, didn't stop Mackerel. She only moved from strength to strength, from making appearances at parties in Jamaica and abroad to now previewing her second song "A So Mi."
The snippet of the song, like everything else Mackerel, has gone viral. This song, unlike her first, is receiving rapturous applause from the dancehall community. This time they can feel that Mackerel is for real, she honestly surprised all of us on this one. A SO ME follows her theme of home wrecking with the main lyrics being, "A so me, A so mi siddung pon yuh man buddy."
She went on to even namedrop Vybz Kartel, "shorty wah kill mi cah mi f**k addi." The 'King of The Dancehall' went on to post the snippet of Mackerel's song on his Instagram, and it seems the deejay was "Loving Every Minute" of the Viral Queen's new heat.
It now seems like Mackerel has firmly cemented her spot in Jamaican Folklore. She was first a social media sensation and has now become a star also putting out music. Not a flower of the industry, Mackerel seemingly kicked down the doors and is now standing in the middle of the room with all eyes on her next move.
Should female artistes be wary of the "Tek Weh People Man" star? Can she share the spotlight with popular artistes like Shenseea, Ishawna, Spice, and D' Angel?
Or is she here to take the spotlight away? After all, she is social media's Viral Queen at the moment. One thing is for sure Mackerel does not intend just to be an internet sensation; she is here to stay and build her brand in dancehall. She is from the people and also doesn't act like the regular ego-driven artiste. She is down to earth and makes the people laugh if she can produce good music consistently; there is no doubt she will be a hit with the crowd.
In the words of Mackerel," Without Mi Dem Rice Nuh Nice." Stay tuned "A So Me" full song coming soon!!!