50 Cent and Wendy Williams are well on their way to make peace.
Talk Show Host Wendy Williams makes a statement that stops 50 Cent right in his tracks. Could their long-standing beef now be behind them? In a recent television appearance, Wendy said she was probably the first radio host to play 50 Cent's music. Long before Wendy became miss "how you doing?" on her celebrity drama and gossip talk show, she was a radio DJ and host. Williams quickly earned a reputation of being one of the best radio hosts in the business. Her way with words and her ability to go head to head with the industries heavyweights gained her much respect.
Back in 2009, in recognition of her talent and hard work as a radio host, Williams got inducted into the National Radio Hall of Fame. This cemented her as one of the most powerful radio personalities in the world. She is one of the few persons who can be credited for introducing quite a number of upcoming entertainers who have gone on to achieve success.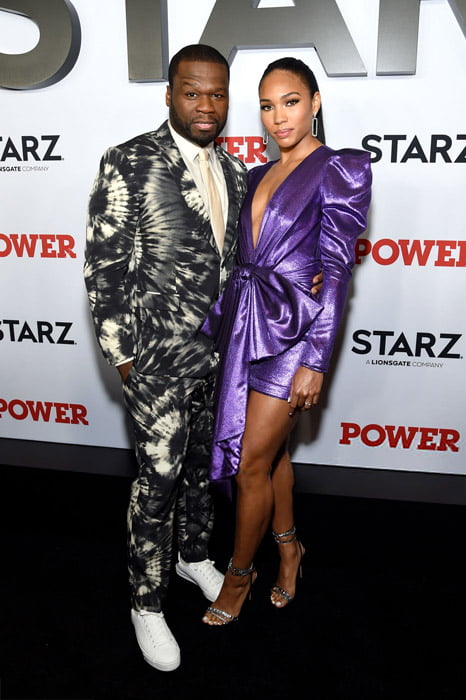 However, in recent times, she has become more of a mockery and is constantly the subject of ridicule. From the way she looks to the dissolution of her marriage, everyone has had something negative to say about her, and 50 Cent has been at the top of the list for years now. Wendy has proven though that she can go toe to toe with the best and for every hit 50 has taken at her she has come back swinging. 50 cent's latest post regarding Wendy particularly stood out as it took on a more tender and comedic tone. Fif appears to be waving the white flag and making peace with the talk show host.
During her sit down on Watch What Happens Live With Andy Cohen, Wendy and Cohen decide to play "Plead the Fifth." During the game, Cohen asks Wendy to say three nice things, about 50 Cent. This is what she had to say, "He's not a bad-looking man, I respect his hustle, and I was one of the first people to ever play his music. As a matter of fact, probably the first, on a cassette on the radio where I got suspended for two weeks without pay cause I used to be a renegade like that."
Wendy Williams went on to explain that she was suspended from the radio station because 50 was not on the approved playlist. Still, that didn't deter her as she supported the rapper and was willing to take the risk to promote his music.
50 Cent got wind of the broadcast and reposted a snippet of it on his Instagram page. "What is this, ok we gonna let you in TYCOON next time," he said before adding, "but you can't just be coming to my party's wit no invite."
What fifty is referencing in his post is a rumor that circulated back in August. It was said that 50 Cent wouldn't allow Wendy into his Tycoon pool party in New Jersey. The "Power" creator then seemingly confirmed the rumor himself on social media by posting a video that appeared to show Wendy being turned away from the event. During the video snippet, someone can be heard saying, "Wendy Williams not being able to get in to the club."
The caption for the video also suggests that 50 Cent did not appreciate Wendy crashing into his party uninvited. "You can't just show up to my PARTY if you been talking about me. B**CH wait out side."
According to TMZ, Wendy Williams actually had no trouble getting into the Tycoon pool party and was accompanied by her son Kevin Hunter Jr., who was celebrating his 19th birthday. Photos from the event show the talk show host and her son hanging with Snoop Dogg, who performed at the event. Wendy and her son were allegedly escorted directly to Snoop Dogg's section without 50 Cent even being aware. She apparently did not find out until after the event that 50 Cent had attempted to stop her from entering the venue.
Though many persons are of the opinion that the long-standing beef is now over, though some folks believe that he somewhat trolled her in the process. Only time can tell the fate of the tumultuous relationship the pair share.