50 Cent is getting some heat on IG for dissing Michael Jackson while praising Chris Brown.
The G-Unit leader might not be the only person who feels that Chris Brown is better than Michael Jackson, but the broader context of his post on his Instagram page is why he is angering some folks. CB celebrated a major milestone in his career this week he became the seventh best selling singles artist in history. He has now sold 69.5 million singles in the United States alone and has over 100 million RIAA certified units.
50 Cent decided to let his followers know that Chris Brown is better than Michael Jackson in his opinion and that he can't believe Mike wanted to touch little boys. The later part of his statement is earning him some backlash. "CB better then MJ to me now, I can't believe mike wanted to touch the little boys booty. what the f**k man," he wrote.
Waka Flocka Flame commented on the post telling Fifty that he don't find what he said funny. "Sh*t not funny …. not Mike my nixxa," Waka Flocka wrote.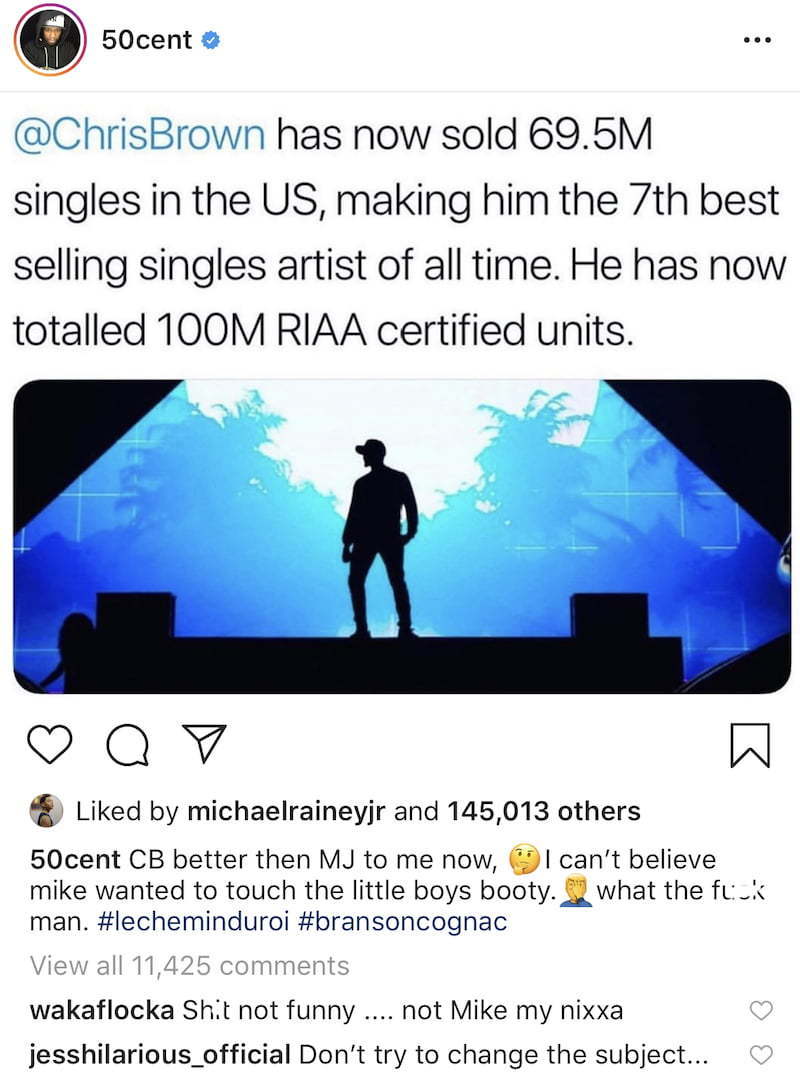 50 Cent is a notorious serial troll on the Gram, so perhaps he is just trolling or maybe trying to change the subject from Trey Songz remixing the Power theme song, to his disdain for Michael Jackson and love for Chris Brown. Some of his followers are even threatening to mute him on IG, which is not something new.
"Fif stop lying on that dead mans name I think it's time to mute you man your getting out of hand with this BS and while your busy taking this sh*t down just change the Power theme song back while your at it," one fan wrote.