Prosecutors plan to use Tekashi 6ix9ine's music videos and song lyrics against his co-defendants, who is a fellow Nine Trey Bloods gang member, in the upcoming trial.
Federal prosecutors have let the court know what evidence they plan to present against Aljermiah Mack, nicknamed "Nuke," and Anthony Ellison, also known as "Harv," according to court documents obtained by The Blast. Harv was a part of Tekashi's management team, and Nuke is accused of being affiliated with the Nine Trey Gangsta Bloods gang. Harv is accused of attempting to kidnap Tekashi last year, a plan that Mack was allegedly apart of.
Tekashi worked out a plea deal in his case that required his cooperation. Prosecutors on Friday asked the judge to admit the New York rapper's testimony, as well as the music videos shot for "Gummo," "Kooda," "Billy," and "Don't Run," the Blast said. Harv appeared in the videos and prosecutors believe Tekashi's lyrics reveal information about beefs between 6ix9ine and other rappers.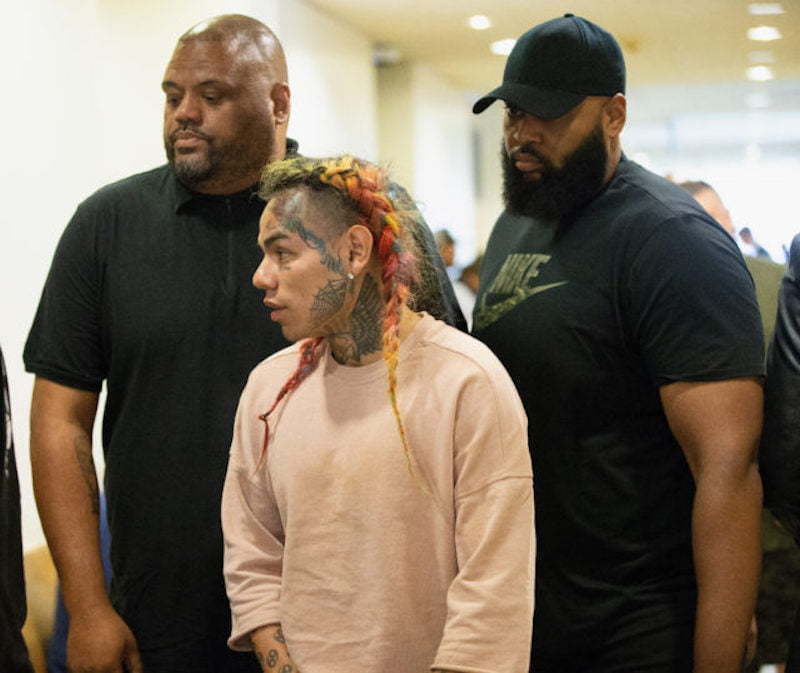 Tekashi is set to testify against both Nuke and Harv and give validation to specific lyrics that refer to members of Nine Trey committing acts of violence.  In the song "Don't Run," the 23-year-old talks about Nuke and Harv's failed attempt at kidnapping and robbing him, which will be used against them in court.
Court documents also reveal that Tekashi allegedly offered his former manager Kifano "Shotti" Joran $50,000 to anyone that would murder Harv, according to Complex News.
In July 2018, Tekashi, born Daniel Hernandez, was hospitalized after being kidnapped, robbed and pistol-whipped in Brooklyn. Last November he was arrested on federal racketeering charges along with a few of his business associates including Shotti.
The trial is set to begin on September 9.