Tekashi 6ix9ine is currently hospitalized in serious condition after he was kidnapped, robbed, and pistol-whipped.
Details of the incident are still sketchy, but multiple reports confirmed that the controversial rainbow-haired rapper was kidnapped on his home turf in Brooklyn early Sunday morning. Tekashi 6ix9ine, 22, also known as Tekashi69, whose real name is Daniel Hernandez, was rushed to a local hospital where he remains hospitalized nursing head injuries. A photo of him in the hospital has been circulating on social media showing him lying in a hospital bed with bruises on his face.
According to TMZ, Tekashi 6ix9ine was shooting on a music video in Brooklyn early Sunday morning (July 22). The "Kooda" rapper finished shooting the video at around 4 AM when he drove home. When he pulled up in his driveway, another vehicle pulled up and blocked him.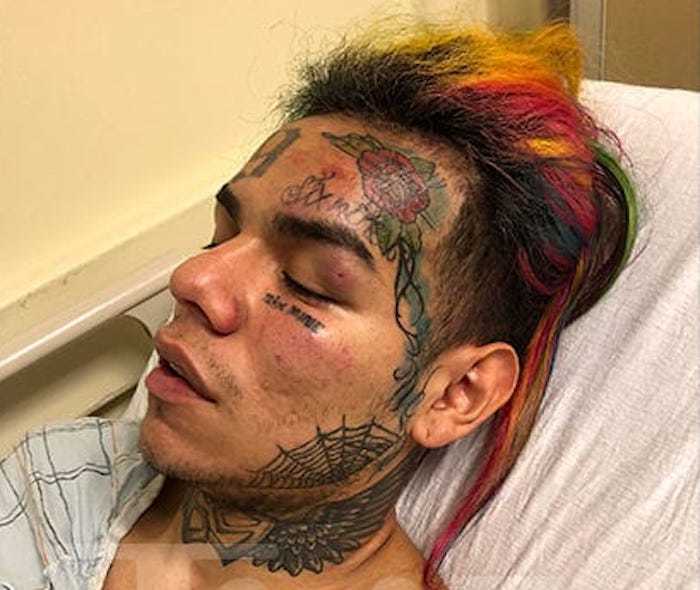 Three gunmen wearing hoodie pounced on him then pistol whipped him and took him hostage in their vehicle. The men drove around Brooklyn with 6ix9ine in the backseat unconscious. The site reported that the men eventually got inside 6ix9ine's home and took some jewelry worth around $750,000 and some cash amounts to around $20,000. Sources say the men knocked 6ix9ine unconscious during the incident.
The rapper's baby mama and his daughter were inside the house but they were not hurt in the incident. Police are actively investigating the incident but Tekashi and his people are not cooperating. Perhaps they want to deal with it in the streets.