Tekashi 6ix9ine has a rumored new baby mama and a beautiful daughter.
Urban Islandz previously reported that Tekashi 6ix9ine has a second baby mama, at least that is what his first baby mama Sara Molina is claiming. Now a female name Layna on IG is putting the incarcerated rapper on blast for not stepping up to be a father in their daughter's life. She also shared a photo of the adorable baby girl. In her lengthy message, she expressed how angry she is at 69.
"I'm a mother and im angryyyyyy. @6ix9ine worried about grabbing a dirty fake butt that he probably gave bv during a jail visit instead of meeting your beautiful daughter and holding her while shes an infant you dummmmyyy," Layna wrote. "Your brother @odirtydollars speak the tf up to your f***ing brother you seen and hearted the photos I sent you of her but you buying ni**as rolexs for lil friends but cant do sh*t for your niece while your bro locked up and let your mom meet her granddaughter like shes been wanting to since she was born."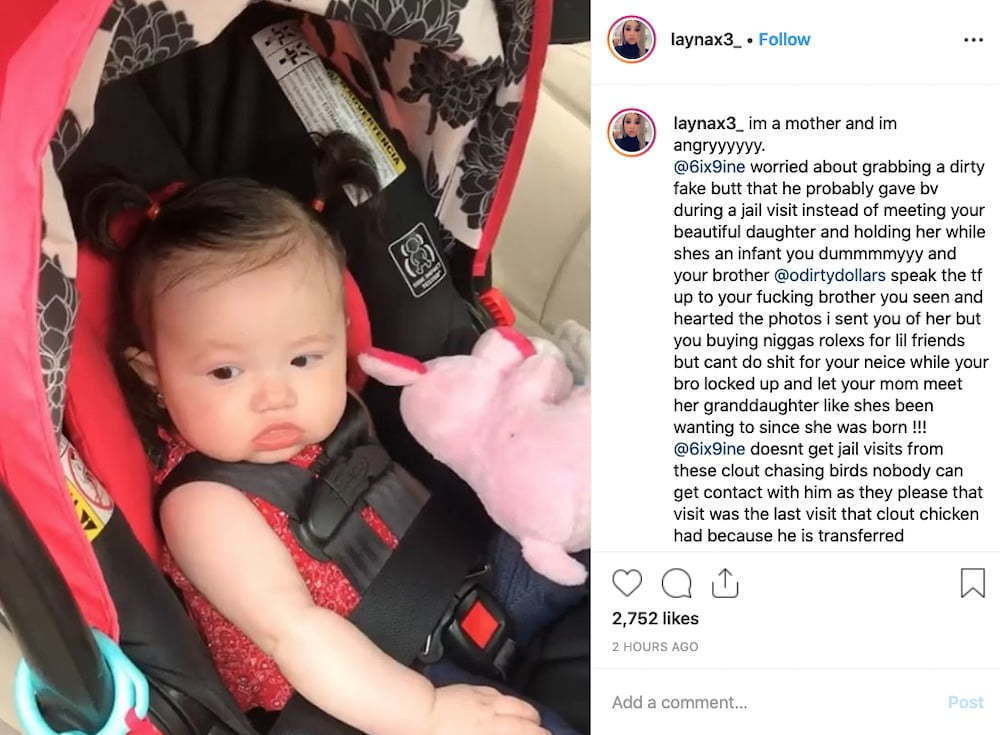 Layna appears to be making references to 6ix9ine's girlfriend Jade, who visited him in jail back in December last year. He also bought her a Rolex and a Mercedes-Benz G Wagon for her Christmas gift.
Tekashi69 baby mama Sara Molina did an interview in February where she alleges that he has a second baby mama. Perhaps she wasn't lying, and now more details are coming to light.