Vybz Kartel hit back at Foota Hype for suggesting that he is mashing up dancehall from prison.
Yesterday, the veteran sound system selector made headlines for his riveting takedown of Vybz Kartel and Squash for portraying lesbianism in their new music video "Beat Dem Bad." This comes days after his attack on Shenseea about the same subject. Foota Hype didn't stop there; he went on to single out other artists like Konshens, Vershon, and even his baby mama Ishawna.
The Gazanation fans have been fighting the battle for Vybz Kartel, but it appears that he has chimed in with a blistering response to Foota. "So this Hedgehog went live on Instagram Saying VYBZ KARTEL & Squash A mash up the music Industry and even went as far as Saying "A Prison you deh Vybz kartel what you really a try achieve?" Kartel wrote in a post on Facebook. "Yow JAH Know.. Why Beyonce love people business so? Yow a full time fi you put on a Wig and follow behind Madea ba**y boy .. Aka IG Sissy.. Give him a Panty Shield."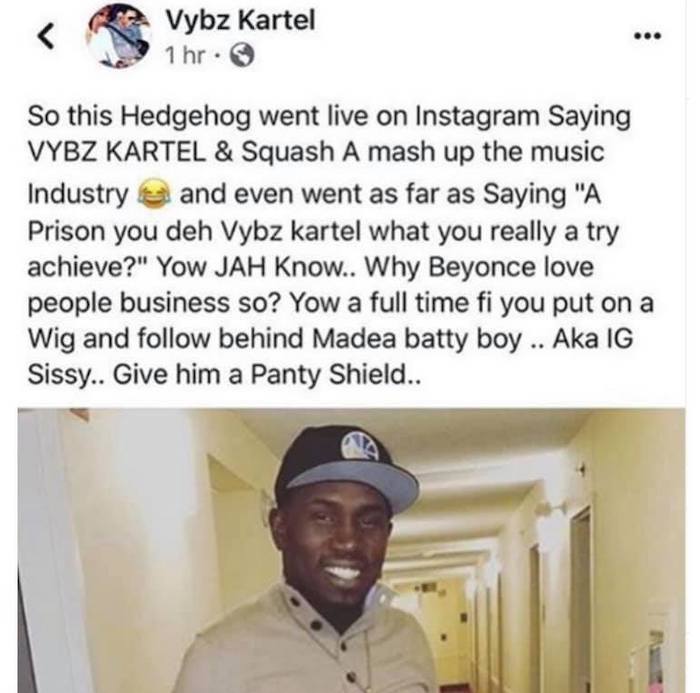 Urban Islandz is unable to verify if this message came from Kartel's official Facebook page, but the Gaza fans have already sent it viral.
Foota Hype once used to be a huge supporter of Vybz Kartel and would often play the Gaza deejay songs during his dancehall sessions back to back. It's unclear now if the veteran disc jockey will be playing Kartel music going forward.