It's Meek Mill Weekend in Philadelphia.
The Philadelphia City Council has declared this weekend, March 15-17, Meek Mill Weekend. The entire city will be celebrating one of their home town heroes as his "Motivation Tour" rolls through town. The Dreamchaser rapper, whose real name is Robert Rihmeek Williams, is being celebrated in the city he calls home for his contributions to hip-hop and his work in criminal justice reform. Milly has sure come a long way from popping wheelies in the streets of North Philly to become a hometown hero.
Meek Mill will be performing at the Met Arena in Philadelphia on Friday and Saturday nights and both shows are already sold out. At an event in Philly on Thursday, Meek thanked his mother, as well as, city officials for recognizing the work that he has been doing.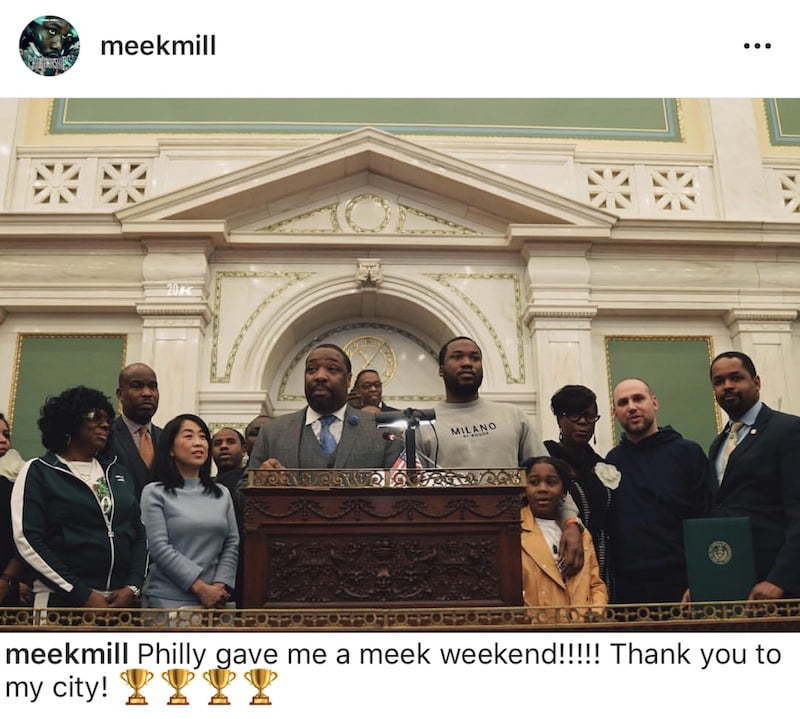 "I think we deserve better," Meek said. I'm trying to fight for young kids that I've spent time with and sat in prison with. I've been to prison a few times for probation violations but the one time my city of Philadelphia showed me support is the one time I came out of prison."
Meek Mill is celebrating the success of his new album Championships which has been certified platinum in March by the RIAA. The project was released on November 30, 2018, and featured his old foe Drake on the single "Going Bad."
Meek's fans across the country have been congratulating him on his latest accolade. Some fans even say they plan to travel from places like Alaska and Hawaii just to see the rapper performed in Philadelphia this weekend. "This is history in the making and bull deserve it really. I been on state road 20 times and it so inhumane. And he came out didn't bash the city. The city wasn't having that and we showed this love to meek solider of Philly," one fan said.