Meek Mill has a lot to celebrate today.
The Philly rhymer's new album, Championships, is now certified platinum by the Recording Industry Association of America (RIAA). Meek Mill released the album on November 30th with guest appearances from Drake, Ella Mai, JAY-Z, Rick Ross, and more. In March, the RIAA certified it platinum, meaning the project sold over one million copies since its release. Meek took to his Instagram page to celebrate another win while thanking his fans.
"Championships went platinum! Thank you to my supporters!" Meek wrote. Championships is now available across all major streaming platforms. The MMG rapper is currently making his way across North America for his "The Motivation Tour," and he has been bringing out some surprised guest on the trek including Drake, Yo Gotti, and Lil Uzi Vert.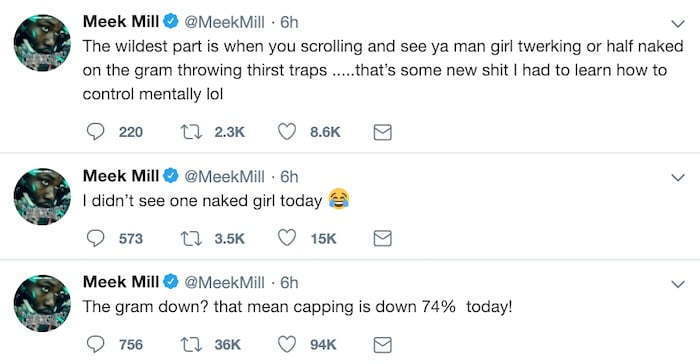 Meek Mill also speaks on Instagram being down all day on Wednesday, and since IG was actually down, he talked about it on Twitter. "The gram down? that mean capping is down 74% today!" Meek tweeted. "I didn't see one naked girl today. The wildest part is when you scrolling and see ya man girl twerking or half naked on the gram throwing thirst traps …..that's some new sh*t I had to learn how to control mentally lol."
It seems like Meek Mill was enjoying the Gram being down, while the rest of the world was having a meltdown over it. Meek will be performing in his hometown tomorrow night when his "The Motivation Tour" rolls through Philadelphia.