Bounty Killer says dancehall legend Papa San is a greater lyricist than Vybz Kartel.
Bounty Killer always drop some gems even if you don't agree with what he has to says sometimes, he always speak his mind and give his unbiased opinion on all things dancehall. For the past couple of weeks, dancehall fans have been debating about who is the current king of dancehall. Vybz Kartel has been dominating the headlines and we saw Beenie Man stepping into the arena while touting his success and contributions to dancehall.
Outside of the "kingship" of dancehall, Vybz Kartel is widely regarded as one of the greatest lyricists to ever take up the mic. Bounty Killer thinks there is one dancehall icon who is greater than the Worl'Boss lyrically.
"For the record, as much as I love Vybz Kartel, original lyrics architect, you are a great lyricist but you are not better than Papa San," Bounty wrote. "Weh San do lyrics wise them no born the end of this topic is not up for debate."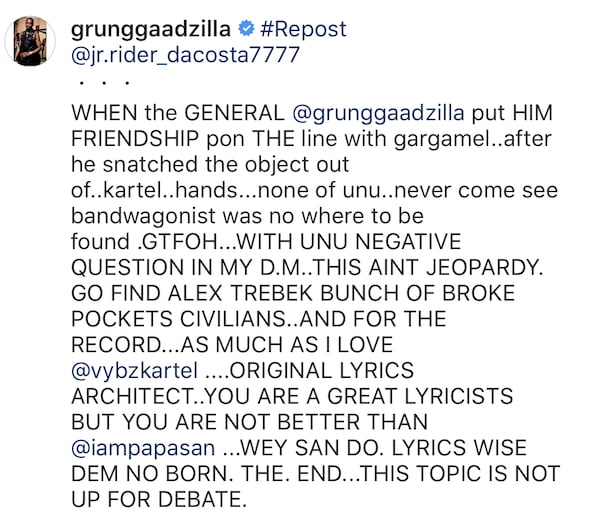 Bounty Killer also noted that he is ready for another collaboration with Vybz Kartel. "The world need another song with you and Kartel, father and son, and you and Mavado, we need united in the music," one of his fans wrote. Killer liked and drop a give thanks emoji on that comment.
Perhaps there is still room for Bounty Killer and Mavado to work out their differences just like we saw the legend and Kartel putting aside their old feud.