The Grammys managed to anger XXXTentacion fans for a major snub.
If you're an avid viewer of the annual Grammy award show, then you would've known that they always include an "In Memoriam" segment to remember all the artists who passed away in the last year. Somehow The Recording Academy didn't include late rapper XXXTentacion in this year's "In Memoriam" and his fans are livid. In fact, a large segment of the hip-hop community is not pleased by the snub.
Variety reported that X was rejected from the segment because of his history of domestic violence. The site reported that a representative for the South Florida rapper has repeatedly asked the Recording Academy to include him in the "In Memoriam," but last night we learned that he did not make the cut.
Urban Islandz previously reported that XXXTentacion, whose real name is Jahseh Onfroy, domestic violence charges were dismissed and wiped from his records following his untimely death in a robbery incident in Deerfield Beach last year June. It seems that was not enough for the producers of the Grammys to honor him.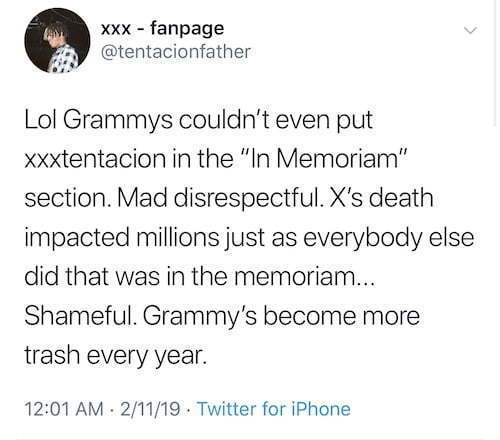 Other artists who passed away last year, including Mac Miller, Avicii, and Aretha Franklin, were all remembered in the "In Memoriam" segment. XXXTentacion fans are now threatening to boycott future Grammy Awards.
"Lol Grammys couldn't even put xxxtentacion in the "In Memoriam" section. Mad disrespectful. X's death impacted millions just as everybody else did that was in the memoriam… Shameful. Grammy's become more trash every year," one fan tweeted.
"Pretty upsetting the Grammys left @xxxtentacion out of the memorial. I don't care how long he was in the industry or how talented people think he was. He was 20 years old, murdered, and he impacted many," another fan wrote.
Do you think XXXTentacion deserves to be honored at the Grammys and perhaps deserve even a nomination?