Mavado has hit back at Vybz Kartel.
Is the Gully/Gaza feud back in full swing? Yesterday Urban Islandz reported that Vybz Kartel told Mavado to "s** you mada" and call him a dunce. The Gullyside singjay has responded and rather than telling his nemesis about his mother, Vado issued a lengthy statement speaking about his accolades and questioning what Kartel has done for dancehall. Let's call it a classy clap back from the MVP singer.
"Intelligence the ability to acquire and apply knowledge and skills like I have been doing this music for so many years and so much f***ers will love to see my downfall," Mavado wrote. "Well I'm just getting started and I always take it one step at a time even tho I have been thru so much over the years, been through fight by the other sides."
Mavado continues his statement accusing the other side of biting his style and acting like it's theirs. He also chided Vybz Kartel for claiming to be the smartest.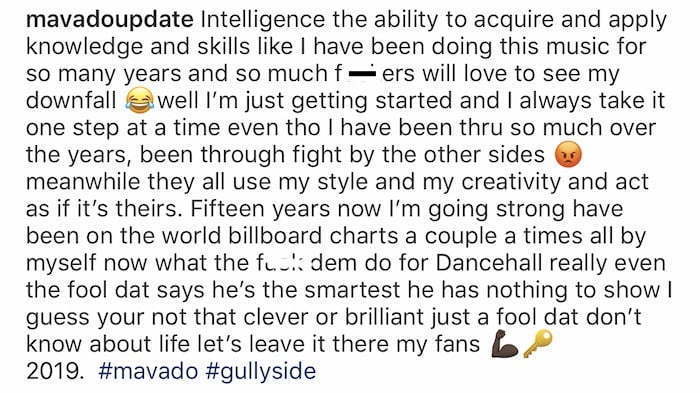 "Meanwhile they all use my style and my creativity and act as if it's theirs," he continues. "Fifteen years now I'm going strong have been on the world billboard charts a couple a times all by myself now what the f*** dem do for Dancehall really even the fool dat says he's the smartest he has nothing to show I guess your not that clever or brilliant just a fool dat don't know about life let's leave it there my fans 2019."
The back-and-forth between Mavado and Vybz Kartel is just more proof that dancehall will be lit this year. The year already start lit with Spice and D'Angel going at each other's throats and now the two biggest artists in the game squaring up. Vershon took the high road and extended an olive branch to Mavado, Jahmiel, and Alkaline, but we saw how the other side responded.