Vybz Kartel issued another diss towards Mavado.
Vybz Kartel reignites his beef with Mavado when he blasts one Gullyside fan and takes shots at the Gully God himself in the process. It couldn't be more clear that Kartel and Mavado will not be making peace anytime soon. The two dancehall giants have ceased taking lyrical shots at each other, but we can't say the same for social media where they regularly send direct and subliminal shots at each other.
Earlier this week, Kartel made a post on Instagram where he is calling out folks who claim to be intelligent but broke. "They say you can't read but they're intelligent and broke #MoneyMayweather," he wrote.
One of his followers responded saying, "So wul on deh [Vybz Kartel]. No same thing ou say bout the Barba Mavado… say him cyaa spell or read?? But him still rich right lol."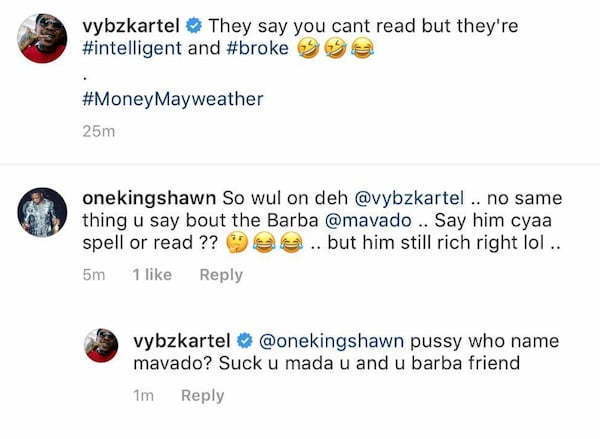 Apparently, he did know that Vybz Kartel is the clap back king. "Pu**y who name Mavado? S*ck you mada you and you barba friend."
Vybz Kartel and Mavado have a long history of beef dated back over a decade. Outside of the Bounty Killer and Beenie Man feud which dominated the 1990s, the Gully/Gaza feud is perhaps the most famous beef in dancehall. Fans got hurt as a result of this feud, and in 2009 the Jamaican government had to step in and forced the two deejays to make peace.
In 2016, Vybz Kartel and Mavado beef resurfaced with the two dancehall deejays trading lyrical blows. The feud was short lived when Kartel came under investigation from prison officials for allegedly recording music in prison. The investigation came up empty handed, but the two never pick up where they left off. The big question now will we see some diss tracks coming out as a result of this direct diss from Kartel?