Pusha T has stepped forward to address a big "F**k Drake" sign at his Camp Flog Gnaw show last night.
Pusha T is blaming the tech guy for instigating Drake beef once again. During his set at his Camp Flog Gnaw show last night, a big "F**k Drake" sign flashes on the giant screen at the back of the stage. It managed to get the crowd all riled up, but King Push was not too happy about it so he took to his Twitter to address it.
"Corny azz tech dude f***ing with my screens at @CampFlogGnaw, I speak for myself and all of you know how I make my statements!! Dissing anybody on screen isn't part of my show… Otherwise great festival, thanx @tylerthecreator for having me out," the G.O.O.D. Music president tweeted.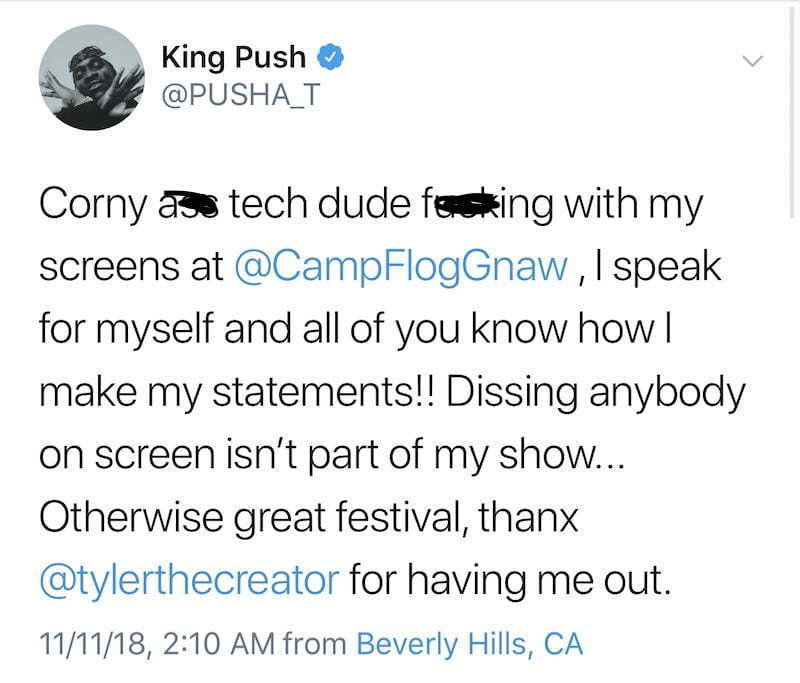 Some fans are not buying Pusha T denial saying that he knew about it from the get-go, but sources are saying that he did not orchestrate the sign and he was angry about it. "Pusha went backstage to confront the tech people at the end of his set, and he was visibly angry about it, he didn't want to bring any bad energy to the show especially with other artists on the bill," sources said.
Pusha T and Drake are arch enemies at the moment, but for the most part, their beef has been dormant except for a few interviews where they both shed some light on it. Drizzy previously said that he wanted to punch King Push in his face for dissing his right-hand man Noah "40" Shebib, who is battling a Multiple Sclerosis. The 6 God also blames Kanye West for giving Push the intel on his secret son Adonis. The Daytona rapper denied the allegation, saying that it was 40 who told a female about it during pillow talk.
yeah @PUSHA_T gives no fucks #campfloggnaw pic.twitter.com/v3ydG9NwyQ

— Kenny N. (@phillycustoms) November 11, 2018