Drake says Kanye West manipulated him and got info about his son and gave it to Pusha T.
Drake has finally broken his silence about his beef with Kanye West and Pusha T. In an interview on HBO's "The Shop" with Lebron James. Drizzy didn't hold anything back, he spilled all the beans about what really went down behind the scenes, and now this paint Kanye in an even worst light that we previously thought. Ye denied that he gave Pusha T the information on Drake's secret son Adonis that gave rise to the vicious diss track "The Story Of Adidon."
Drake is evidently not buying Kanye West denial, and he explained what transpired behind the scenes that lead him to believe that the whole thing was planned from the very start. Drizzy said that earlier this year he and Ye link up and they had a lengthy conversation and played a lot of music for each other before deciding that they are going to Wyoming to work on his album.
"He sold me on this whole speech of like, 'I'm in a great place, I'm making money, and I'm a father, and I wanna be Quincy Jones and help you, but in order to do that, you've gotta be transparent with me," Drake said Kanye told him during their conversation. "You got to play me your music, and you got to tell me when you're dropping. And I know you don't like to do things like that, and so I was in the studio, guess we all kind of felt a genuine vibe from it. So I play him my music, and I told him when I was dropping."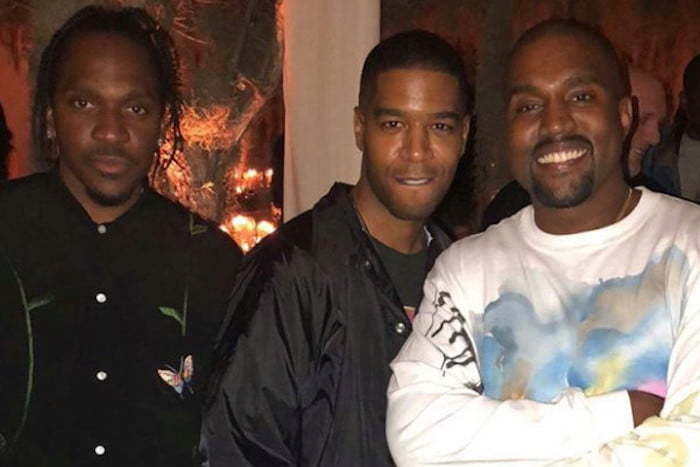 Drake said that Kanye West played the song "Lift Yourself" up for him and then told him that he could have it for his album. The OVO rapper added that by that time he was pumped, so he started writing the song immediately. He added that Kanye then invited him to his Wyoming retreat to continue working on new music, and he accepted the invitation, but when the time arrived and his producer and close friend Noah "40" Shebib went there, they noticed that things were off.
"Then 40 went to Wyoming early, and he was like, 'Man, I'm here a day early, man Something's off,'" Drizzy said. "He's like, 'This guy is working on an album.' And I was like, 'For real? He just told me he wanted to work on, like he just told me he wanted to give me beats, and he said he wasn't dropping until like October, November, something like that. And I'm like, 'It's all good, let's just go, and let's just see what it's about.'"
Drake said he went to Wyoming nevertheless and met with Kanye West and some other guys and played for him the single "March 14th" which appeared on his new album Scorpion. On the track, Drake raps about his son and some other personal stuff. The 6 God also said he gave Ye a photo of his son and told him about the problems that he was having with his baby mama.
"I wake up, and all these dates are out. Then the next two days, whatever, I wake up now to this text from him, passive like, 'Yo, I love you brother,'" Drake continues. "'Lift Yourself' comes out with him just talking nonsense. Oh this guy's trolling me. This was like a manipulative, like, 'I wanna break you' thing. So I said alright. I'm gonna go back to distancing myself again."
It appears that's when their relationship started going downhill, and Drake clearly felt like Kanye West was manipulating and trolling him the whole time.