Kanye West says he never told Pusha T about Drake's son Adonis which gave rise to the beef and the vicious diss track "The Story Of Adidon."
Kanye West did an interview on Chicago's 107.5 WGCI on Wednesday morning where he was asked about rumors that he was the one who gave his right-hand man Pusha T the information about Drake. King Push famously released a diss track for Drizzy where he called him a deadbeat dad for hiding his secret son. Word on the streets was that Kanye listened to the album Scorpion before it came out and heard the songs that Drizzy rap about having a son.
Ye is now making it clear that he has nothing to do with that because he has better things to do than to instigate a beef and provide gossip material for diss tracks. "Don't pull me into that type of conversation," Kanye West said. "That's what Y'all don't even understand." When asked if he didn't give Pusha T the information, Ye said, "No I didn't. Don't pull me into this conversation like am Ye, I got major things to do than telling him some information about Drake."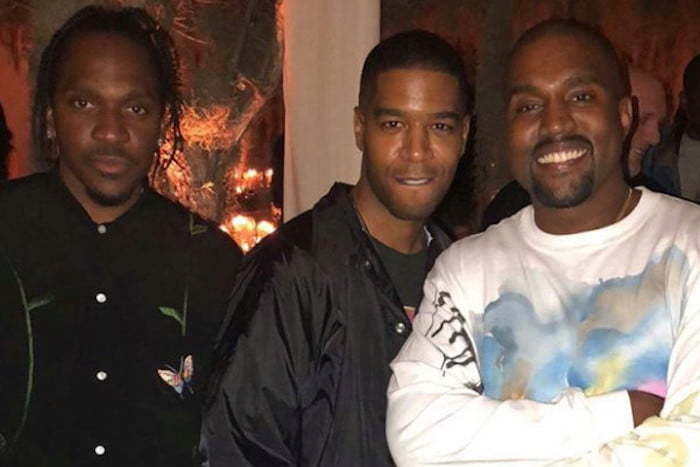 "I don't sit around and do that, I honestly don't care about stuff like that," he added. "It's fine but I just enjoy the music and enjoy being with my family and I enjoy making music. That's not, my head is not in that place."
Kanye West became a part of the Pusha T and Drake beef earlier this year when the G.O.O.D. Music rapper released "The Story Of Adidon" where he ripped Drake for hiding his son with a porn name Sophie Brussaux.
The Toronto rapper famously raps about hiding the world from his son Adonia on his new chart-topping album Scorpion. "I wasn't hiding my kid from the world / I was hiding the world from my kid / From empty souls that just woke up and looked at the bait / Until you staring at your seed / You can never relate," Drizzy raps.
Kanye West says that he hopes one day he and Drake can make peace and make music again.