G Herbo is a single man again.
Chicago rapper G Herbo was dumped by his baby mama, Ariana Fletcher, after she caught him cheating on her once again. Rumors have been floating around for the past few weeks that Herbo and Fletcher are on the rocks after she caught him cheating with multiple women. While he never addressed the rumors, she has now broken her silence making it clear that she is one hundred percent single and on the market.
"I'm only addressing this because you weak a*s h*es f***ing folks and I'm not gone lie it's embarrassing because y'all so weak so I don't want y'all thinking y'all f***ing my n***a, F*** at your own risk!" she wrote on IG while sharing a photo of her freshly done nails that says Thug Life.
Fletcher has since deleted the post from her Instagram account, but we all know that in the age of social media, someone already grabs a screenshot of it and posted it on Shaderoom. Ariana also shared another photo of her phone screen showing a female face. She captioned that photo, "wrap it up sis." It seems like the unnamed female is one of G Herbo's side chicks.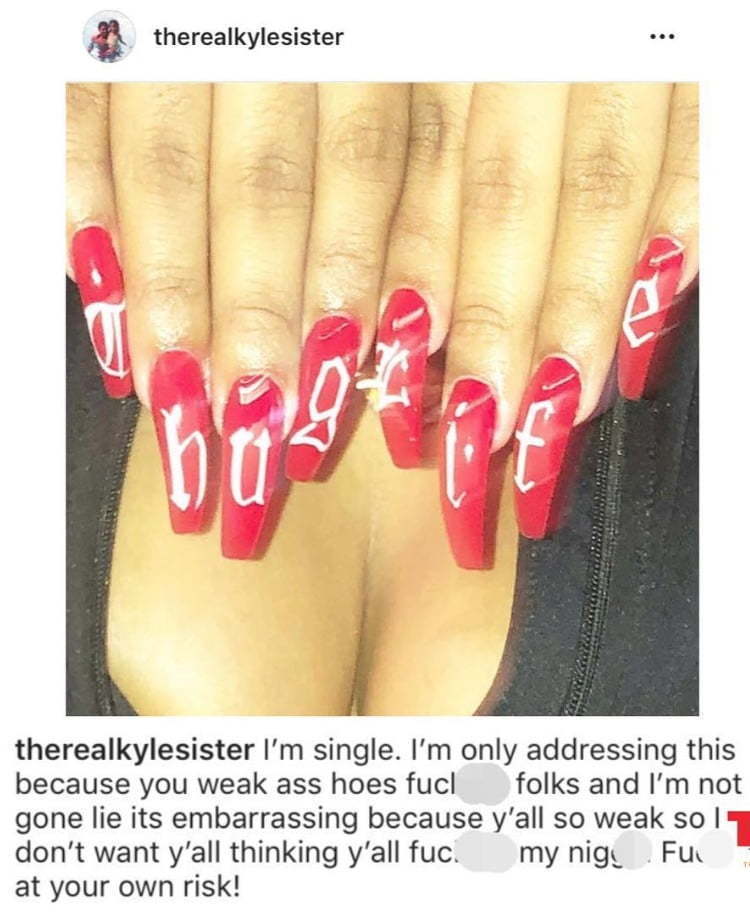 In May of this year, G Herbo's baby mama put him on blast on Instagram for allegedly cheating on her again. She was clearly very angry with him and appeared to have broken up with him at the time. It seems they got back together, but that didn't last for long because fast forward a few months, and they're done.
G Herbo and Ariana Fletcher were rumored to be engaged since earlier this year. If that was true, then there will for sure be no walking down the aisle for the Chi-Town rapper. The former couple also has a daughter together.