Nicki Minaj is off the market once again.
Nicki Minaj recently revealed that she is single, but there is a new boy in her life. It turns out the mystery guy is none other than race car driver Lewis Hamilton. After going on a date in New York City during NY Fashion Week, the new couple took their world wind romance to another famous city, Dubai. For the first time, Nicki is confirming the relationship when she liked a post from one of her fan pages that posted a pic of herself and Hamilton.
Instagram blog The Shade Room later posted a video clip of Nicki and Hamilton heading inside their hotel in Dubai over the weekend. The "Queen" rapper then posted several photos of herself riding ATV in the desert with her friends. While the couple wasn't showing any PDA, Nicki looked like she was totally here for the cameras rolling while she strolls with her new man.
In a recent interview with Elle Magazine, Nicki Minaj said that becoming single made her "feel strong and powerful." She added, "The fact that I am a young woman who doesn't need a man for money. I don't need a man for a job. I've never had to f*** for beats. I've never had to f*** for a record deal. I don't have those pressures."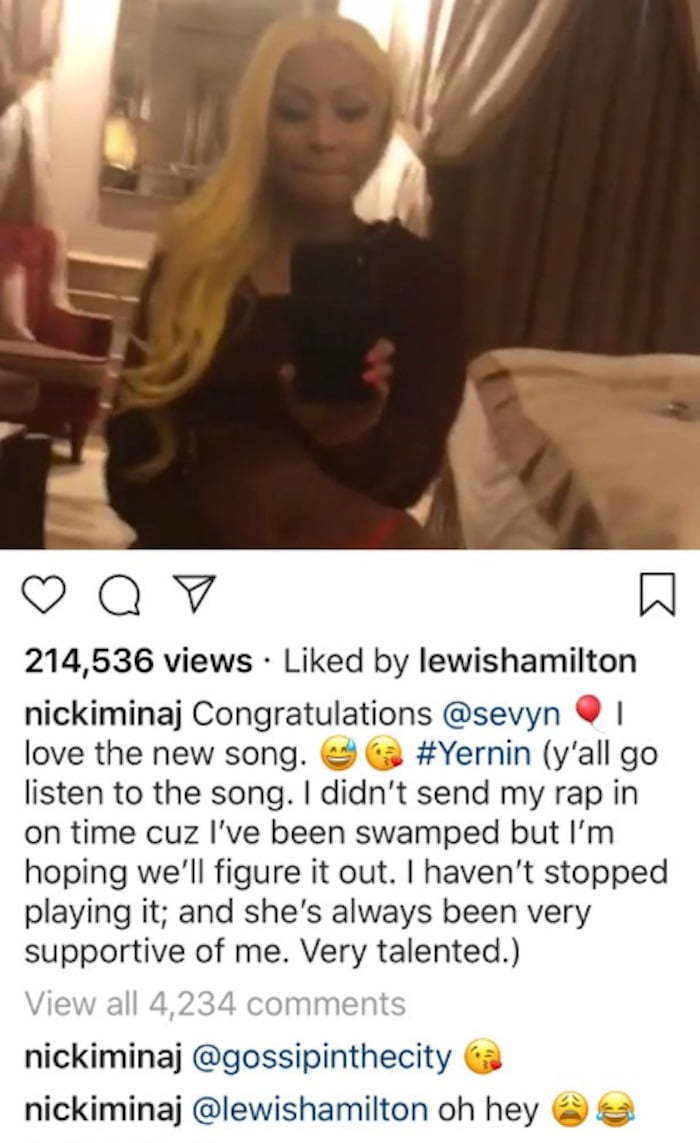 Just last week, Nicki Minaj was spotted flirting with Lewis Hamilton on Instagram which only added more fuel to the rumors. The pair has yet to officially confirmed their relationship, but Nicki sure has been dropping hints all over the place.