Nicki Minaj says she is in love with her new man.
It seems Nicki Minaj, aka Queen, has found her true king, or so she is leading us to believe. The Trinidadian rap beauty revealed during her interview with Ellen DeGeneres on Tuesday of this week that there is a new boy in her life, but she is still very much single. On Wednesday, she sent out a tweet telling her fans that she is in love with her new man. "I love new boi," she tweeted.
Nicki Minaj had since deleted the tweet, but not before we got a screenshot of it. Her fans started to ask a lot of questions about the identity of her new man, and it seems Nicki was in no mood to answer those questions, so she deleted the tweet. Of course, her fans, aka Barbz, are currently scraping the net for clues about who is the new man in the Queen's life.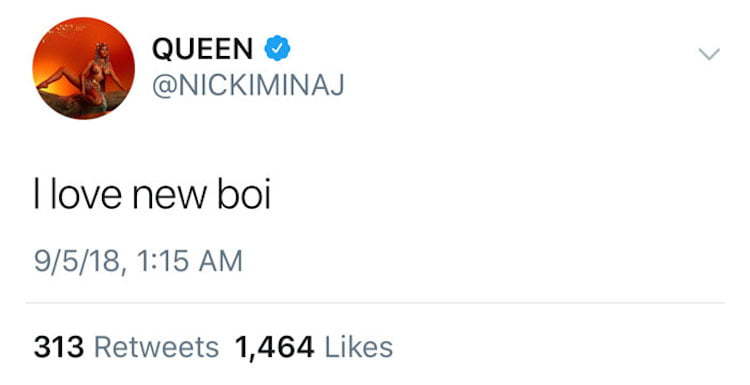 As of the time of this publication, we don't know who Nicki Minaj new man is, but she revealed to Ellen that he has been around for a little while now. "There's a new boy, but he and I kind of fell back a little bit, and then there's a newer… he's been around for a couple wigs now," she said.
After coming out of a decade-long relationship with Safaree Samuels, Nicki Minaj dated Meek Mill for two years before they called it quits. She said that her relationship with Meek was very toxic. She then dated Nas for around six months and has remained single since they decided to fall back in December of last year.
Nicki says that this is the first time that she has been single since she started dating at 15 and is urging her female fans never to think that they always need a man in their life.