Nicki Minaj and Drake were spotted tooling around in her studio this week which begs the question. Is there a collaboration coming?
Drake just dropped his new album Scorpion, and Nicki Minaj made a guest feature on the project. Nicki now has her new album Queen coming out later this month, and all of a sudden the two labelmates are spotted in the studio. The "Barbie Tingz" rapper posted a clip with SnapChat filters on IG today.
You can see in the clip below where Nicki Minaj appears to be toasting Drake as he jokingly asked her what's the name of her new hit song "FEFE" with Tekashi 6ix9ine. The song has been a huge hit since its release last month and debut at No. 4 on the Billboard Hot 100 chart this week.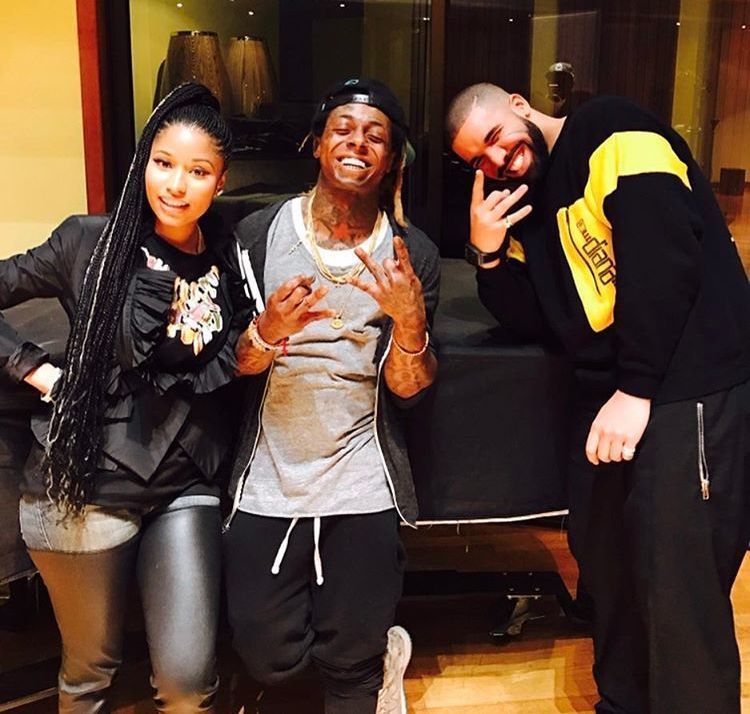 We're told that there is a strong possibility that Drizzy will appear on Nicki's upcoming album, Queen. "There is a good chance that 6 God will be on the album," sources close to the Trinidadian emcee told Urban Islandz. "They always make good music together when they link up and yes they absolutely recorded some new material in her studio. The final decision is between her and her team on whether she wants to drop in the song on Queen or not."
Nicki Minaj and Drake have collaborated on several songs in the past including the mega-hit "Moment For Life." Nicki provides some additional vocals on Drizzy's Scorpion single "That's How You Feel." She said it was an honor being a part of such a landmark project.
Nicki and the Toronto rapper reunited last year following her split with Meek Mill. You can recall the two put some distance between them when Drake and Meek Mill were beefing in 2015. We're told that she was partly responsible for the reason why Meek went after the 6 God on Twitter over some ghostwriting rumors.