Pusha T takes more shots at his enemy Drake using an infamous gritty Vybz Kartel line.
Pusha T says his beef with Drake is over, but he is still out there taking shots at the 6 God. The G.O.O.D. Music rapper has always been a huge fan of dancehall music and has even collaborated with Popcaan and Vybz Kartel in the past. King Push quoted some of Kartel lyrics recently when he heard that Drake has a career-ending diss track in his arsenal.
The lyrics were taken from Vybz Kartel diss track for Mavado "Send A Hell" which was recorded in 2007 in the heights of the Gully/Gaza war. "Anuh likkle bit a people me send a hell / Dem never kill nobody yet a lie dem a tell," Pusha tweeted.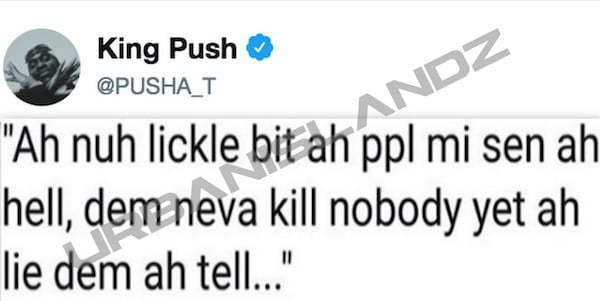 It seems Pusha T is ready for anything Drake got coming on his new album Scorpion dropping this weekend. Drizzy took a few bruises in round one of their beef when King Push released "The Story Of Adidon." The Toronto rapper recently revealed that he will be addressing the beef and explained on his new album why he never responded to that diss track.
Perhaps Pusha T is also hinting that he has a diss track with Vybz Kartel. If that's the case, then that would deeply divide Drake's massive dancehall fan base since Kartel controls a sizeable portion of the genre.