Chris Brown sends a cryptic birthday message to his ex-girlfriend Karrueche Tran.
The actress celebrated her 30th birthday today (May 17th) with her boyfriend Victor Cruz. But Chris Brown is clearly missing her and couldn't help himself from saying something on social media. On Thursday, Brown posted a few clips from his music video "Autumn Leaves" featuring Kendrick Lamar where Karrueche played his love interest during the time they were together. Breezy clearly had a reflection on the good old days and decided to remind his ex-girlfriend.
Chris Brown has since deleted the photos after Karrueche Tran fans started calling him out on it telling him to leave her alone and move on. In one of the photos, Chris Brown kissed Karrueche's forehead and he captioned the post with a party emoji.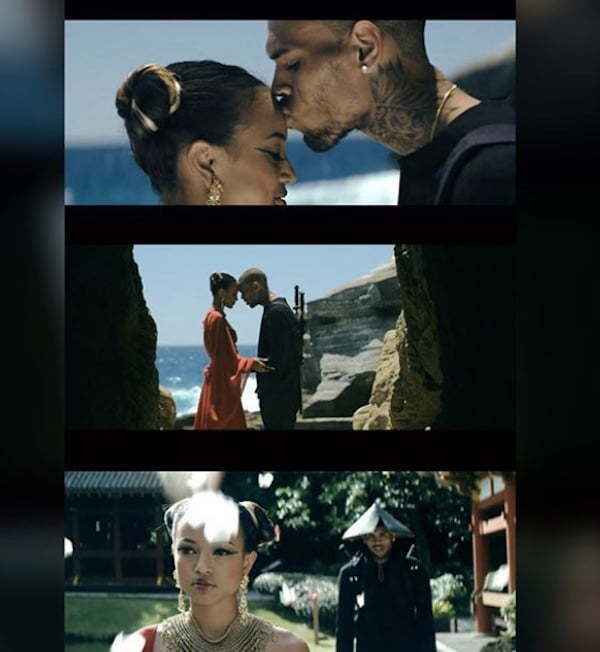 Tran was for sure having a party but not with Breezy. She rings in her birthday with her boyfriend and her friends. She posted an Instagram Live video of her gang taking shots to ring in her dirty thirty.
"He gotta move on she happy in love with her chocolate drop SORRY Chris u had a chance bro it's OVERRERRRRR," one fan commented while another added, "She's the one that got away!! Goes to show, don't take a good woman for granted."
One fan even suggested that Chris Brown is still continuing his stalker behavior. "I get not being able to get over someone but this man is scary, ever since he was pictured following her outside that club I knew he wouldn't let that thang go," Katy wrote.