Cardi B says she was attacked at a store yesterday and now she is explaining why it happened.
On Sunday, a video surfaced on social media showing Cardi B inside a store and a group of fans outside yelling at her to come outside. One person who posted the video wrote that the owner of the boutique emptied the store so that Cardi B could shop in peace but now the Invasion of Privacy rapper is calling that statement bogus.
"But who said that's what happened?" Cardi B wrote. "I was walking to the store and the man asked for a picture and I said no. Then he took out his phone got next to me and my security told him 'she said no' then the guy and his girl started calling me a week a$$ b*tch so I started barking."
Cardi B said she then walked to the store and the guy and his girlfriend followed her while arguing with her. "I walked all the way to the store and they still follow me trying to argue with me," she added. "If I respectfully told you I don't want to take a picture your drunk a*s shouldn't get close to me and disrespect my decision, space or privacy."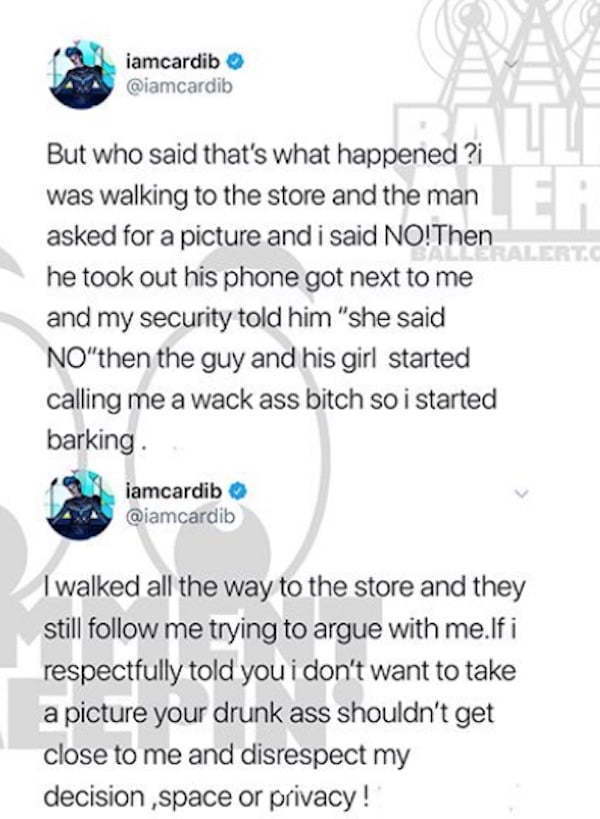 This latest incident comes a few days after Cardi B got into a heated beef with Azealia Banks on social media. The "Bodak Yellow" has since deleted her Instagram and Twitter accounts so that she can focus on her pregnancy and her music. She is also working on some new music behind the scenes but clearly she found some time to go shopping. After all, she has a baby on the way so she needs to buy some baby cloth.
Cardi B is expected to give birth in June or July. This will be her first child and the third for Offset.