J. Cole only has one guest feature on his new "K.O.D" album and fans thinks it's his alter ego.
So far no one knows who Kill Edward is, but he is the only artist to hold not one but two guest spots on J. Cole's new album Kids On Drugs. The project will be available by midnight so you only have a few hours to find out just who that artist is. The Dreamville rapper's fans are already floating the idea of Kill Edward being his alter ego on the album.
This is not a far-fetched idea given that J. Cole is notorious for dropping albums without a single guest spot. Edward also already has a profile on Spotify and his profile picture is a little boy maybe around 8 or 9 years old. It could be Cole in his younger days.
A Kill Edward reference single was leaked online called "Tidal Wave (Just a little reference)" where he raps about "I guess the neighbors think I'm selling dope." J. Cole famously had an issue with his neighbors in a residential community who called the cops on him saying he is selling drugs out of the house.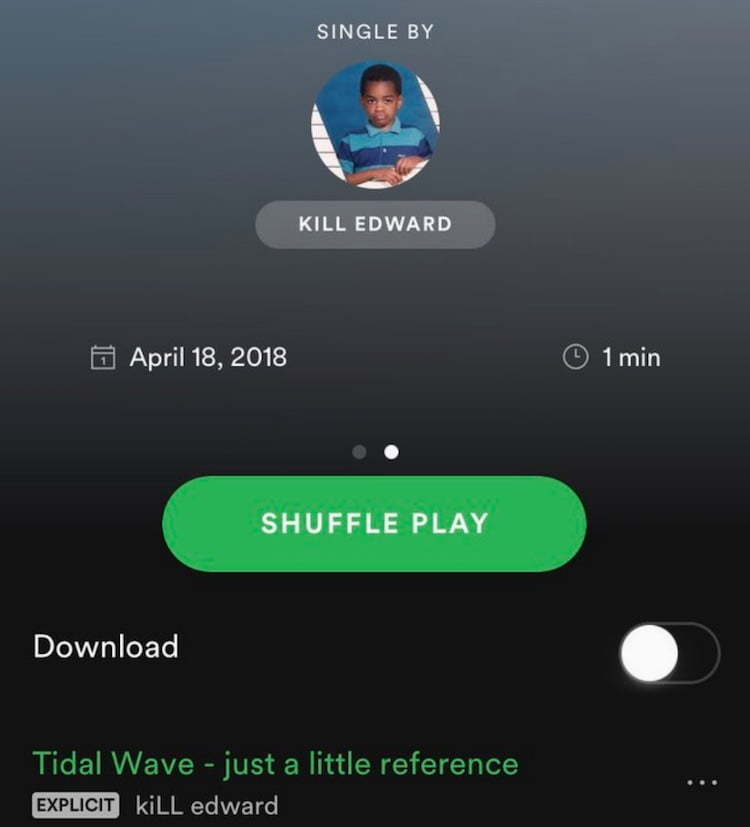 So if J. Cole is Kill Edward then Kill Edward is J. Cole just like the infamous multiple Spiderman meme. The Roc Nation rapper is getting ready to unleash his new album "K.O.D" on the rap world and get this, all of his previous albums are certified platinum without having a guest feature. The mere thought of Cole dropping a project with someone else on it is foreign to us all and that makes this project all the more interesting.
The album will feature 12 tracks that seem to center around the theme of kids using drugs. There is a song on the album titled "Kevin's Heart" we will be paying close attention to that one.
if you look on Spotify kill Edward has one song and it sounds like cole chopped and screwed" sounds like him when he said "I guess the neighbors think I'm selling dope"

— Noka (@NokaETB) April 18, 2018
J. Cole's 'KOD' features kiLL edward. My first instinct said this is probably an alter ego. This year, an artist named kiLL edward released a song called "Tidal Wave (just a little reference)." Guess what? Voice is strikingly similar to Cole's.https://t.co/wvlDUrHyHV

— Andrés Tardio ?? ? (@AndresWrites) April 18, 2018
since Kill Edward is @JColeNC , that's means Cole is about to drop his 3rd featureless album in a row.

— Sensei Ju ?? (@JuOfStayTrue) April 19, 2018
Speed up Kill Edward's first post on SoundCloud from 2 days ago and you get @JColeNC @pmidnight16 pic.twitter.com/8cQWjCkvJK

— Kyle Gardner (@kgmadeit1) April 18, 2018