Cardi B donned a skin-tight bodysuit while performing in Trinidad on Thursday night sparking more pregnancy rumors.
"Wow Cardi B look like she is really pregnant for Offset," one female standing next to me in the crowd at Big Bad Soca said to her friend who nods her head in agreement. While the "MotorSport" rapper did look like she had a little bulge going on in her belly area, she did address the chatters from last week saying that she is just going through a little fat phase.
If you take a glance at her comments on IG you will see her fans in a heated debate on whether or not she is knocked up. "No b**ch. I'm just getting fat. Let me be fat in peace," Bardi famously told her fans. On Twitter, you will find the same thing, fans everywhere discussing an "alleged" baby bump going on. "I walked up behind one of my 7 year old students while she was on the computer this morning and she had "cardi b pregnant with offset's baby" typed in the google search bar," one fan tweeted. One fan even suggested asking Siri if Cardi B is pregnant or is she just eating well.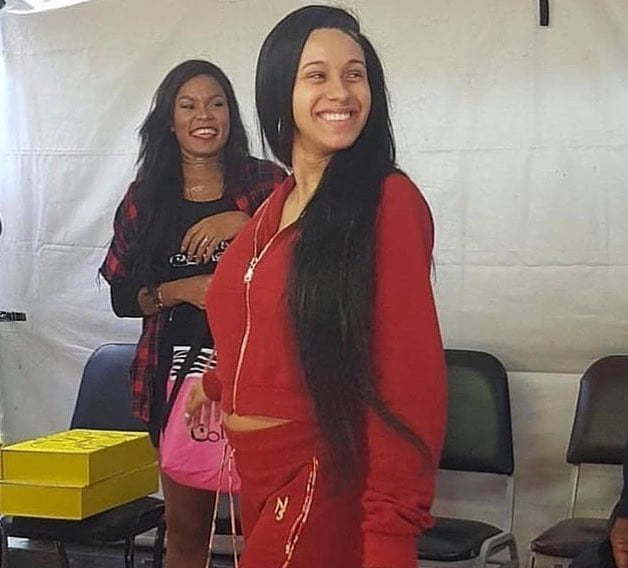 If she is pregnant, this would be Cardi B's first child and the fourth for Offset who already has three kids from previous relationships. The Bronx rapper was in Trinidad this week for a big performance at the annual Big Bad Soca concert. Shenseea, Machel Montana, and Bunji Garlin were among the lineup and her set was well received.
Bardi is on the cover of the upcoming issue of I-D magazine. In her spread, she opened up about not wanting to be a role model for young girls. "I'm not trying to be this 'ROLE MODEL' to these young girls because I'm very rated R and I'm not a perfect person.I wouldn't want to change for nobody neither," she said on IG. "I do however want to remind girls from any age that i was a young girl like them from the STREETS +MUD=BRONX where you dream big but it seems like dreams don't come true. I want to let them know that dreams do come true with hard work and prayer."
https://www.instagram.com/p/Be8rRR4hB7v/