Nicki Minaj is taking a social media detox and her fans are pulling out their hair.
Last month, the Trinidadian rapper disabled her comments on Instagram, removed her bio, and went quiet. Her last post on IG was on December 30 when she posted a pic of herself with a Casper mattress saying that she hasn't slept for days. The last time she was active on Twitter was the day after Christmas when she promoted her new song with Lil Wayne for his Dedication 6 mixtape.
Nicki Minaj social media blackout is deliberate, per her sources, who explained to us on Wednesday that all is good with her "just taking a break from all the craziness and giving herself some me time."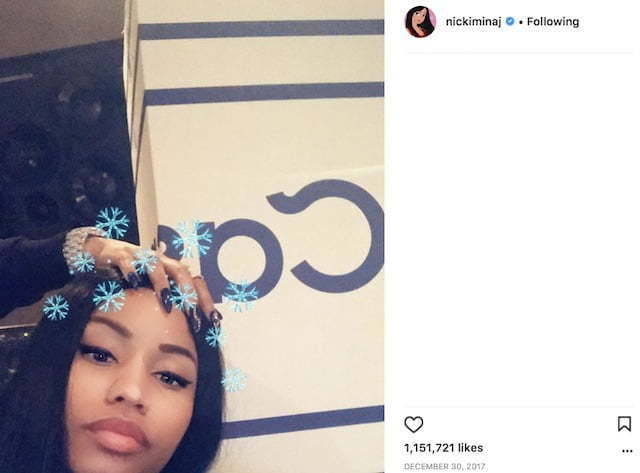 "Sometimes in the midst of all this craziness on social media you just want a break, take some time out, chill with the family, get some rest, eat some home cook meals, and be on the couch," sources told Urban Islandz. "Onika loves her fans, she will be back and with vengeance. When you see her fall back like this, she ain't just idling, she coming back with some bangers."
This is not the first time Nicki Minaj went lights out on social media sending her fans into panic mode. In 2015, she took a break from the Gram for about two months before coming back with some new music and some thirst trapping photos. Perhaps this is a strategy to get everyone yearning for her and then come back with a back. Artists do that from time to time as a way to increase interest in their music.
Nicki Minaj has been working on an upcoming album for the past year, so that may have played a role in her absence from the spotlight as pressure mount for her to release come out with a new project this year.
https://twitter.com/MADBLACKTHOT/status/958578520543854592
https://twitter.com/NMLite/status/957671260909178881
https://twitter.com/Jonathzn/status/958865080703180801
https://twitter.com/NMLite/status/958800805880061954
When Nicki Minaj comes back I hope she brings her album with her.

— Ray ? (@_BluRay__) February 1, 2018