Nicki Minaj wants more respect on her name and Kendrick Lamar seems to agree with her.
Nicki says that male hip hop fans should put some respect on her name just like they do her male counterparts. For the last few weeks. the Young Money rapper has been complaining bitterly about not getting the same respect as the male rappers in the industry even after creating a vast catalog and an impressive resume in music and fashion over the past decade. Today (October 25), she went on Twitter to offload some things off her chest.
In her first tweet, Nicki Minaj thanks Russ for heaping praises on her on Wednesday during an interview with Rap Radar's Elliot Wilson and B. Dot. During a preview of the upcoming interview, Russ said what several other industry personalities have been echoing, that Nicki has not been getting the credit that she deserves. Minaj thanked him for the gesture and then went on to vent about getting the most hate from the male fans in the industry and even some of her male counterparts.
Related: Nicki Minaj Talks Male Counterpart: "I got to prove myself a hundred times"
"This was so nice of you my love, thank you," she wrote. "In any field, women must work TWICE as hard to even get HALF the respect her male counterparts get. When does this stop?" She went on to elaborate that the great rappers in the industry have all collaborated with other great MCs of her era like Drake, Kendrick Lamar, and J. Cole, three rappers who are often mentioned in discussions about the top five rappers of this generation. "The greats collaborated w/Drake, Kendrick & Jcole b/c they're dope MC's. They collab'd w/nicki cuz someone pulled a gun to their heads," she added.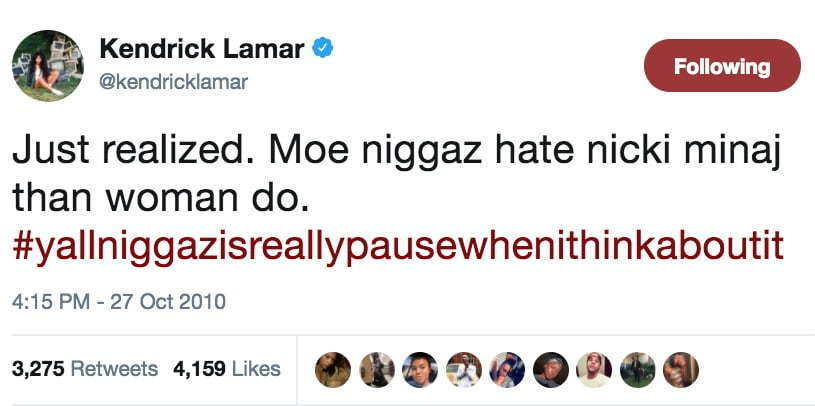 In another tweet that seems to be a shot at new rappers like Cardi B, Nicki Minaj she shouldn't even be placed in the same sentence as these new MCs after being an OG for 10 years consistently putting out hit records. "Putting ppl in the same sentence as me after my 10 years of consistent winning. What are you teaching THEM? They'd never do this to a man," she wrote.
She went and dug up an old tweet from Kendrick Lamar from 2010 where the Compton rapper said more males hate Nick than females. "Just realized. Moe ni**az hate nicki minaj than woman do. #yallni**azisreallypausewhenithinkaboutit," K-Dot wrote.
People needa put more respect on @NICKIMINAJ name pic.twitter.com/gyPWpgZ6hg

— Russ (@russdiemon) October 25, 2017
In any field, women must work TWICE as hard to even get HALF the respect her male counterparts get. When does this stop?

— QUEEN (@NICKIMINAJ) October 25, 2017
The greats collaborated w/Drake, Kendrick & Jcole b/c they're dope MC's. They collab'd w/nicki cuz someone pulled a gun to their heads… ??

— QUEEN (@NICKIMINAJ) October 25, 2017
Putting ppl in the same sentence as me after my 10 years of consistent winning. What are you teaching THEM? They'd never do this to a man.

— QUEEN (@NICKIMINAJ) October 25, 2017
Kendrick's tweet from 7 years ago. This is so telling. And scary. I'd have to wear some baggy pants n timbs for men to openly give props. https://t.co/r6fEjSJZPl

— QUEEN (@NICKIMINAJ) October 25, 2017