Seems Kendrick Lamar is dissing Big Sean and not Drake on his new song "The Heart Part 4" if you take into consideration the hip hop beef experts on Twitter.
Kendrick Lamar has signaled his return with a new banger "The Heart Part 4" where he allegedly take shots at Big Sean. I say allegedly because K-Dot himself didn't confirmed the single as a diss track and neither has there been any well known beefs between himself and any other rappers. Some folks on Twitter are saying that he is taking shots at Drake who just released his new album More Life, while other folks are saying the 6 God has nothing to do with whoever the TDE rapper is rapping about.
Some folks are are even saying that Big Sean has been taking shots at Kendrick Lamar for quite some time now and even did so on his recent I Decided single "No More Interviews." But it's already known that he was addressing his feud with his labelmate Kid Cudi who is mad at him for dating his friend ex-girlfriend Jhene Aiko. So why would Kendrick be attacking the Detroit rapper on his first single in the new year and what will likely be the first off his upcoming album?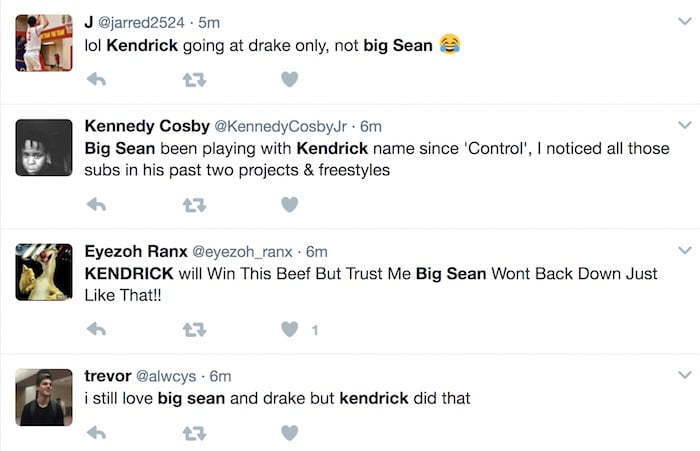 Let dissect some of the most standout lyrics on the track "The Heart Part 4." There is a line on the track where the Compton rapper raps "Hoe, Jay Z Hall of Fame, sit ya punk a*s down." Big Sean's second album is titled Hall of Fame. In one of his expletive laced verses, Kendrick raps about taking down his nemesis and crush his entire career. "My fans can't wait for me to son your punk a*s and crush your whole lil sh*t / I'll Big Pun your punk a*s you a scared lil b**ch / Tip-toeing around my name ni**a you lame / When I get at you homie don't just tell me you was just playin' / I was just playing K.Dot c'mon you know a ni**a rock with you bro," he raps.
There are a lot on this track that is still up for interpretation, but majority of hip hop right now seems to think that Kendrick Lamar is dissing Big Sean, so one of them should address this fast. If it's true, then Big Sean should be in the studio right this minute laying down a diss record. If it's false then K-Dot should let it be known so that the G.O.O.D. Music rapper don't have to wonder if its him or not. As for Drake, the 6 is too busy watching is album More Life break streaming records.
Kendrick Lamar new song "The Heart Part 4" is now available on iTunes/Apple Music.
These are some of the reactions on Twitter.
What if I told you you could be a Kendrick fan, a Drake fan, and a Big Sean fan? pic.twitter.com/p4bDoJ7OC9

— Tiny Rick (@GetYouAStace) March 24, 2017
Kendrick called out drake, big sean, donald trump, fake rappers, fake girls and RUSSIA on one track pic.twitter.com/u65k4R1oo2

— ? (@GroovyEddie97) March 24, 2017