Nicki Minaj is ripping PARTYNEXTDOOR on Twitter for hinting that he may have ghostwritten her new song "Regret In Your Tears."
Since dropping the single on Friday on iTunes, Nicki Minaj has been getting a lot of attention that propelled the track to the top ten on iTunes. But Nicki is also getting some negative attention from some fans who are saying that OVO singer PARTNEXTDOOR ghostwrites the song. PND added fuel to the rumors when he liked a post from a fan on Twitter who was suggesting that he wrote the track.
That move infuriated Nicki Minaj who couldn't resist responding. Not only did she denied the allegations, but also called out PARTYNEXTDOOR for even hinting or agreeing with a fan that he ghostwrite the song "Regret In Your Tears." But let's be honest, in any of the posts that PND liked didn't suggest that his fans were talking about "Regret In Your Tears." But nevertheless, that was the most talked about song on Twitter.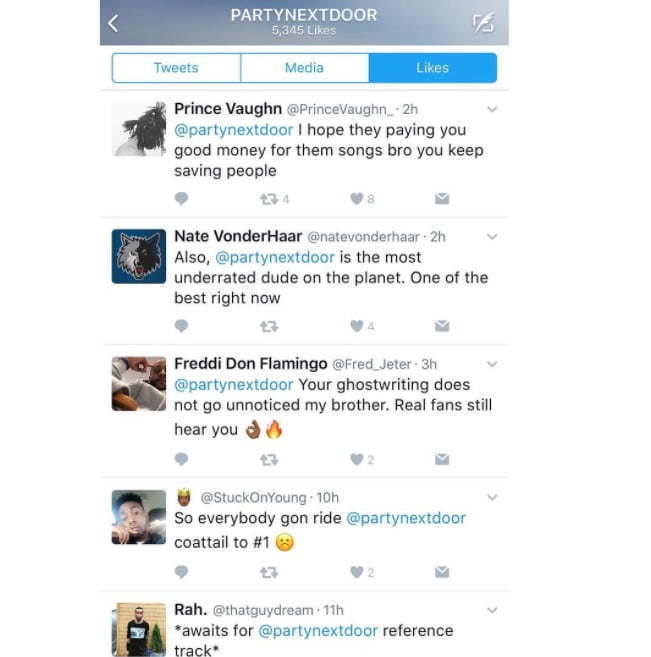 "Party Next Door had NOTHING to do w/ #RegretInYourTears – ni**a aint never heard that song a day in his life ?. Bless y'all heart.," Nicki Minaj tweeted. She later added on Twitter "Not sure why he was "liking" tweets. Maybe it was just "funny" to him. Maybe he was…"hacked". Lol. Either way. ?????? – #DisTewMuch FOH."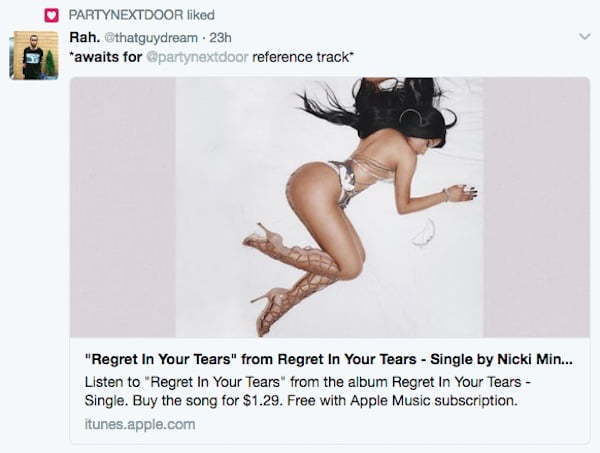 "He musta thought the caption said "work". Lol the internet gettin spooky, man. Like da ni**a NEVER heard the song a DAY in his LIFE," Nicki wrote on her Twitter timeline. Apple Music also named Nicki Minaj and Brittany Hazzard as the writer of the song. "Regret In Your Tears" is a breakup single that tackles her breakup with Meek Mill back in December. PARTYNEXTDOOR and Nicki Minaj recently collaborated with Major Lazer on a new single titled "Run Up."
I don't even know what time it is out there. ? it's #7amInPARIS ?

— QUEEN (@NICKIMINAJ) March 11, 2017
Not sure why he was "liking" tweets. Maybe it was just "funny" to him. Maybe he was…"hacked". Lol. Either way. ?????? – #DisTewMuch FOH ?

— QUEEN (@NICKIMINAJ) March 11, 2017
Nicki Minaj responds to PARTYNEXTDOOR ghostwriter claims on #regretinyourtears pic.twitter.com/BQ9JvqV659

— Urban Islandz (@urbanislandz) March 12, 2017