Meek Mill and his Dreamchasers want to beat up Soulja Boy after the SODMG show off a what he said is a fake DC chain.
Soulja Boy has been posting photos and videos on SnapChat rocking a DC chain making it seems like he is repping Meek Mill's crew. Sources say when the Philly rapper got word of what was going on he went nuts. "Meek is pissed off about it for sure because this coon don't rep DC in any way shape or form," sources told Urban Islandz on Twitter on Thursday morning. "This is not no Chris Brown type of sh*t, Chasers will go and look for this ni**a for sure."
Meek Mill even posted a photo of Soulja Boy on his SnapChat with a clear message. "Soulja Boy got me f***ed up if he think he finna walk around with fake asss DC chains that u ain't get from me… We definitely ain't supporting none of dat goofy sh*t u be on ni**a .. U a lame ass rat ass set switchin ass ni**a."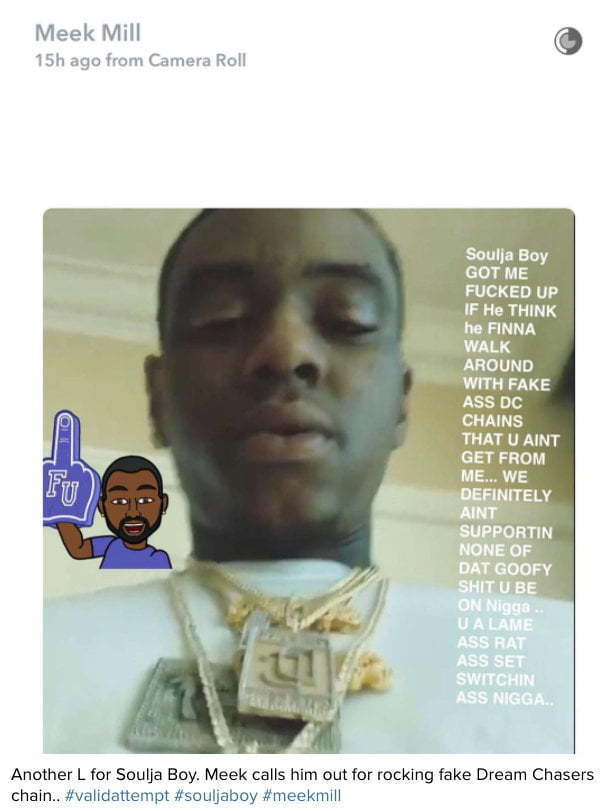 Seems the MMG emcee is definitely not feeling Soulja's social media foolery. The "Superman" rapper has been having a rough year and is looking at some possible prison time after he was caught with a stolen police officer's gun. His much hyped fight with Chris Brown all but seems like a big joke now and hip hop fans are already giving him an L for trying to beef with Meek.
Meek Mill himself has been having a bad year mostly from his social media fallout over his breakup with Nicki Minaj. Last weekend he abruptly deleted his Instagram account after fans caught him sneak dissing Minaj and Safaree. Nevertheless, both these rappers are prepping upcoming albums with SB naming his project "Draco" and Meek highly anticipated DC4.5 album set to be released sometime soon.
Then there was also this cryptic message from Meek earlier this week that seems to be a shot at SB and Breezy gang affiliation.
https://www.instagram.com/p/BPfwxN4Auaa/