Meek Mill could be gearing up to take a few shots at Nicki Minaj and Safaree Samuels on his upcoming DC4.5 mixtape.
The Philly rhymer has been teasing some new music for the LP on Instagram since the start of the month. Fans are already growing impatient for the album that we have been hearing about since around November last year. This is the clearest sign yet that he could be delivering it any day now.
On Thursday, Meek Mill left a few hints on IG that he will be holding nothing back and go after his ex-girlfriend and her her longtime ex on a fiery track off the project. "Left my bent in her driveway her ex n#%ga embarrassed! #pullup," the rapper wrote in the caption of a photo of himself sitting on his black Bentley Bentayga SUV in the driveway. "Friends turning foes n#%gas leaving me no choice!" he wrote on another post.
Meek Mill also post a clip of himself playing one of the single off DC4.5 telling his fans that "It's getting real" while also indicating that the album is coming soon. "125g aka 4 1/2 if you know you know! Soon come!" he wrote.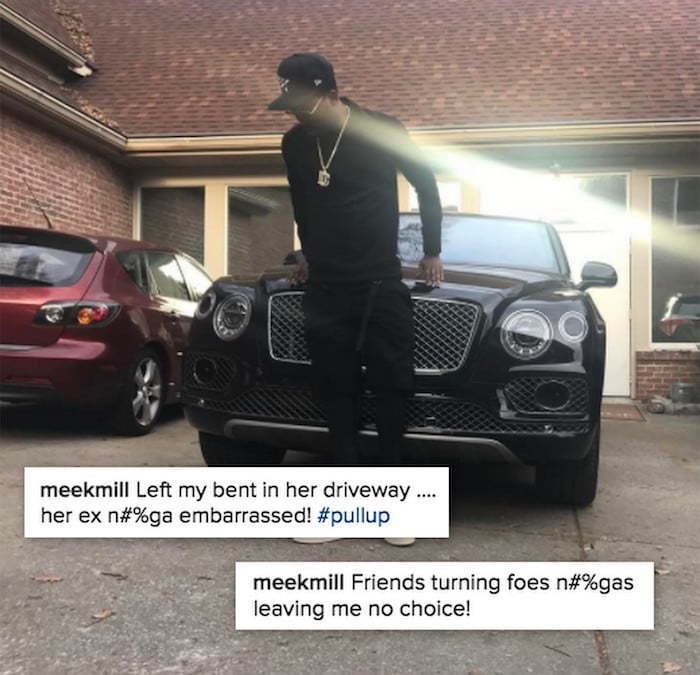 The MMG rapper came under scrutiny this week for allegedly taking back a ring that he gave to Nicki Minaj in the heights of their romance. He has since denied the allegation but photos have been circulating on social media of him showing off the pricey jewelry. "Y'all gota let me breathe a lil bit with all these made up stories lol," he wrote on IG in response to a post by Balleralert outing him. "Who's paying ya'll?"
If Meek Mill decides to diss Nicki Minaj and Safaree on his new album, there is no doubt that he will likely get a response from both of them. Minaj is also working on her new album so this could make good material for her for that project.