Nicki Minaj fans went on a trolling spree on Meek Mill Instagram account forces him to go lights out once again.
Meek Instagram page is currently saying "Sorry, this page isn't available" because he deleted his account over the weekend after we reported that he is dissing Nicki Minaj and her ex-boyfriend Safaree Samuels. The Philly emcee spent last week giving fans a preview of his new album DC4.5.
In one of his posts he hinted at a possible diss towards his ex-girlfriend and her longtime ex coming on the project. "Left my bent in her driveway her ex n#%ga embarrassed! #pullup," he wrote in the caption of a photo of himself sitting on his Bentley Bentayga SUV. Meek also posted a video of himself listening to a new single coming on the mixtape.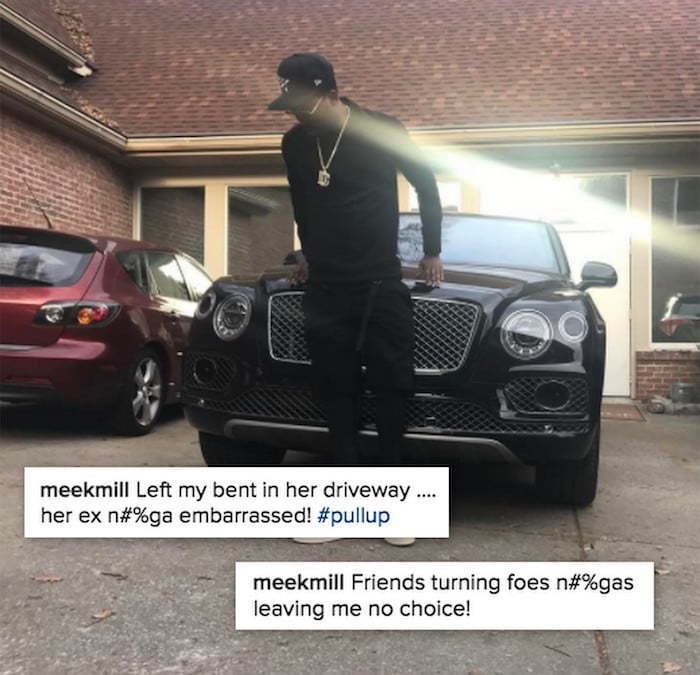 Nicki Minaj fans immediately started posting Ls in the comments on his Instagram while others directly called him out. "You can't diss Nicki and expect us not to come for you so hold this L," one fan wrote. Back in December, the MMG rapper also deleted his Instagram account following his breakup with Minaj.
Despite the Trinidadian rapper confirming their split, Meek has been radio silent. Last weekend he was spotted at Lenox Mall in Atlanta hanging out with actress Keke Palmer.