Chris Brown was reportedly fired from a Las Vegas residency gig at Drai's Nightclub over a racist rant on social media.
Last month, Brown went on Instagram to blast the club calling the owners racists. "(Empty) Drais has some people working for them that always are on a power trip. Some racist (expletives)," he wrote on IG. "I pack this club out every single time my name is on the flyer. I keep the lights on in this place. I ain't no slave or an employee of this establishment. So make sure you put some respek on my name!"
TMZ reported that Breezy's recent behavior also didn't helped his relationship with the club's management. Drai's owners has since fired off a letter to Chris Brown's lawyer asking him for a formal apology. Those other incidents are believed to be his two recent lawsuits, as well as, a landlord accusing him of trashing a villa in Ibiza.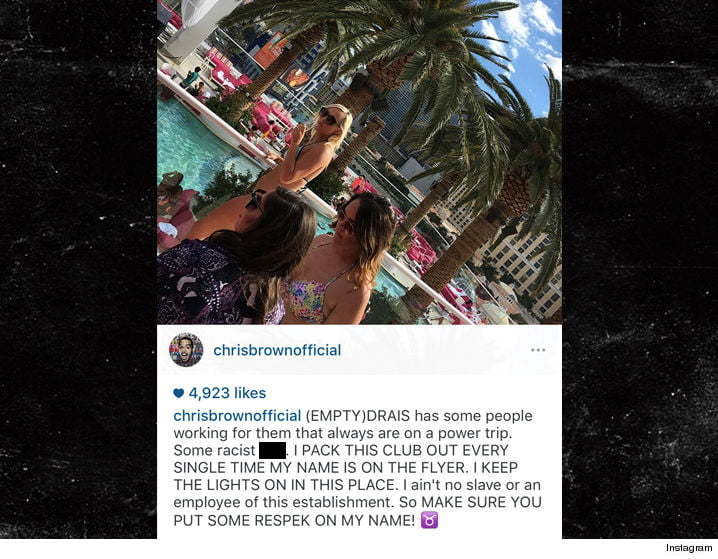 Chris Brown is not one to apologize often so that apology was not forthcoming which is no surprise there.
"As one of Las Vegas' leading nightclubs and the nation's preeminent hip hop performance venue, Drai's has always taken great pride in its relationships with our incredibly talented resident and guest artists, including a successful partnership with Chris Brown," Drai's nightclub said in a statement sent to Billboard.
"However, recent events have raised concerns that will need to be addressed with Chris and his management before that relationship can continue to move forward. We have reached out accordingly and are waiting to hear back from his team. We remain open to sitting down with him to discuss the future."