Nicki Minaj and her new boo Meek Mill have been rumored to be already heading for a split after problems in their relationship started to surface.
While the couple is still together, signs are showing that they might not last long enough for their tour this summer.
SEE ALSO: Nicki Minaj Says She And Meek Mill Are "Super Compatible"
Sources close to the Trinidadian rapper told Urban Islandz that she and Meek Mill have been having huge arguments and that is pushing them apart.
"They are very much into each other but their relationship is growing toxic very fast," our source said. "They have been having huge arguments and sometimes they don't even speak to each other for days. But at the end of the day every couple go through a rough patch. Everybody know that Nicki is a hot head and Meek is no better so they always clash."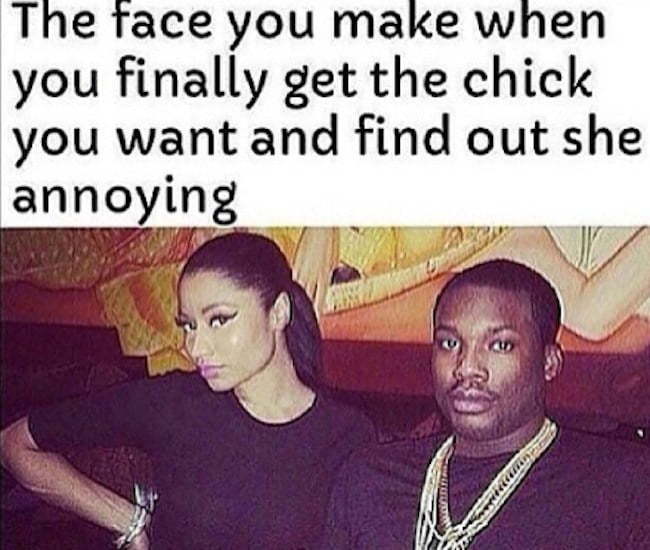 This meme has also been making the rounds on the net.
Our sources also told us that Meek Mill thinks that Nicki Minaj is too arrogant and can be a demanding diva.
"I think that Meek thinks that she is too arrogant and demanding and he is not use to dealing with girls with strong personalities like that so maybe that is one reason why they are having so much fights," our source added.
Nicki Minaj and Meek Mill reportedly got into a heated argument during a performance in New York last month and a video from the show has been making the rounds on social media.
The video shows the two having an exchange on stage and Nicki pointing in Meek's face, but there are no confirmations on whether or not they did had an argument.
Nicki Minaj announced earlier this week that Meek Mill, Dej Loaf, Tinashe, and Rae Sremmurd will be featured on the North American leg of her The PinkPrint tour this summer.
gallery"97267,97213,97212,97210,96377,96023″]