Beyonce sent the internet into a frenzy earlier this week after performing her single "Resentment," with some modified lyrics.
During her On The Run tour stop in Ohio last weekend with husband Jay Z, Beyonce got really personal when she opened up about being cheated on and riding with her man for twelve years. The original version of the song says six years and the single "Resentment" was released six years ago so do the math.
SEE ALSO: Beyonce Confirms Jay Z Cheating In New "Resentment" Lyrics
Beyonce sings about an attractive mystery woman who she had to look in the eye and realize that she had half of her. Check out some of the new lyrics excerpts:
Been ridin' with you for twelve years
I gotta look at her in her eyes and see she's had half of me.
She ain't even half of me
That b**ch will never be
Like I couldn't do it for you like that wack b**ch could
New reports have surfaced claiming that Rihanna was the woman Jay Z cheated on Beyonce with.
Urban Islandz reached out to a close source to the Bajan pop star who told us that folks inside her circle thought Beyonce released the single because of the relationship allegations between herself and Jay Z.
"A lot of us did thought it add Bey released that single around the time of the cheating allegations between RiRi and Hov," the source told us.
"Let me make this clear, all of this is mere allegations because Hov and RiRi are very close and people are always wondering what type of relationship they have. At the end of the day folks are going to draw RiRi back into this hot mess," the source added.
Jay Z signed Rihanna to Def Jam Records in 2005. But rumors of an intimate relationship between the rap mogul and the Bajan pop beauty started circulating around 2006-2007. Beyonce released the single "Resentment" in 2008.
Check some more excerpts from the original lyrics for "Resentment."
"I tried and I tried to forget this. But I'm too damn full of resentment. I know she was attractive but I was here first," Beyonce sings.
The alleged relationship between Jay Z and Rihanna caused a rift between Jigga and Beyonce, who often times got furious at the rapper for talking on the phone in length with Rihanna.
Jay Z and Beyonce later got married in 2008.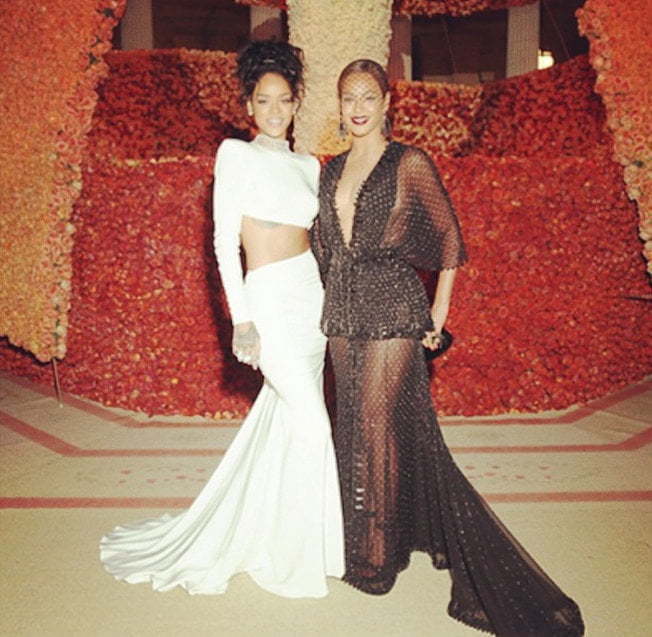 Rihanna was also drawn into the equation after that infamous elevator fight video with Solange Knowles attacking Jay Z landed online.
According to reports, Jay Z wanted to leave Beyonce and Solange at the Met Gala after party at a New York City hotel to go party with Rihanna at the 40/40 Club.
Beyonce tried to dispel those reports by posting a photo of herself and Rihanna on her Instagram.