The infamous video of Beyoncé's sister Solange Knowles attacking Jay Z in a hotel elevator is still dominating social media.
According to reports, Solange has since tweeted about the incident accusing Jay Z of hitting her sister.
SEE ALSO: Beyoncé Sister Solange Attacked And Spit On Jay Z At Met Gala [VIDEO]
Screenshots of the tweet has been circulating online since yesterday.
'He tried the right one. I keep telling yall that n***a about that life.
'U hit my sis. I hit you hoe. Talk what you know! Yall don't know sh**.'
But we've learned that tweet is face and was created by someone looking to stir up more controversy.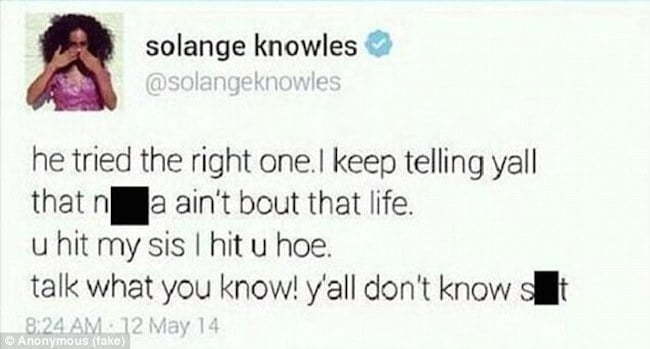 A rep for Solange told TMZ that she did not post that tweet on her Twitter feed.
A rep for the Standard Hotel in New York has issued a statement apologizing for the leaked video.
"We are shocked and disappointed that there was a clear breach of our security system and the confidentiality that we count on providing our guests. We are investigating with the utmost urgency the circumstances surrounding the situation and, as is our customary practice, will discipline and prosecute the individuals involved to our fullest capacity."