Vybz Kartel making music in prison.
This has been a hot topic since his incarceration in 2011. But now a judge and the Department of Correctional Services could give the "Romping Shop" deejay the green light to record behind bars.
But it could come with conditions attached.
SEE ALSO: Vybz Kartel Sentencing Delayed To April 3
SEE ALSO: White House Removed Vybz Kartel Fans Petition
Yesterday High Court judge Justice Lennox Campbell postponed Vybz Kartel's highly anticipated sentencing to next week Thursday, April 3, 2014.
Vybz Kartel, born Adidja Palmer, along with Shawn "Storm" Campbell, André St John, and Kahira Jones are facing life imprisonment after being convicted of the murder of Clive "Lizard" Williams on March 13, 2014.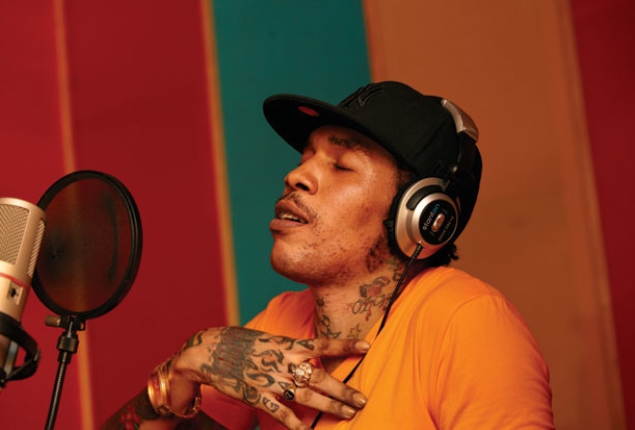 The ruling came after defense attorneys complained that they did not received a letter the judge instructed the Supreme Court to send to both the defense and prosecution attorneys.
Justice Campbell told the court that the degree of participation of each of the four convicted men will help determine how long they will be sentenced to. This means each men could be given a different sentence.
But one of the major issue of the sentencing is whether or not Vybz Kartel and Shawn Storm will be allowed to record new music while in prison.
Sources say the Department of Correctional Services will play a pivot role in determining if the men are fit to record behind bars as part of the Jamaican prison rehabilitation program. However, some proceeds from the earnings of their recordings could go towards repairing the damages done to the victim's family.
The judge also seems to be siding with making proceeds from these recordings go towards the estate of the deceased Clive "Lizard" Williams.
"In a previous matter, when a person was convicted who had some artistic talent certain things were done. It needs to be found out whether in fact it was open to the court for any of those proceeds gained could go to repairing any of the damage to the relatives of the deceased," Justice Campbell told the court.
Jah Cure released three albums while in prison. The reggae crooner, whose real name is Sycatore Alcock, spent 7 years in the Tower Street Adult Correctional Centre after being convicted of rape. Proceeds of Jah Cure's recordings were used to help the prison rehabilitation program.
In the end it would be the Department of Correctional Services to make the final decision on if Vybz Kartel will be allowed to record behind bars and if proceeds will go towards his murder victim's family.
The judge will also decide on if Clive Williams' family will be allowed to make any statement in court before he hands down his sentencing next Thursday.