Vybz Kartel, born Adidja Palmer, is back in the Home Circuit court today for day 34 of the ongoing trial.
Kartel, Shawn "Storm" Campbell, Kahira Jones, André St John, and Shane Williams are all on trial for the alleged murder of Clive "Lizard" Williams.
DISCUSSION: Text Messages Implicate Vybz Kartel, Shawn Storm In Clive Williams Murder
Yesterday, defense attorneys got their turn to cross-examined Detective Corporal Shawn Brown from the Organized Crime Investigation Division (OCID), who presented the much talked about text messages in court earlier this week.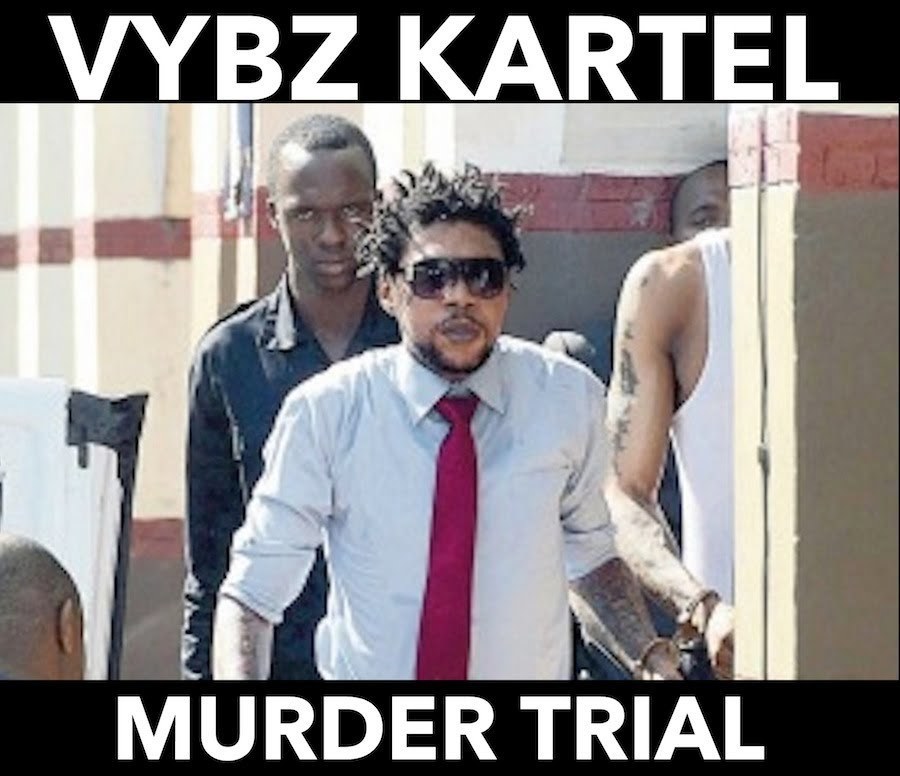 Under cross-examination from Kartel's lead attorney Tom Tavares-Finson, Brown admitted that he mislead the court when he linked a text message sent by Shawn Storm to the victim Clive "Lizard" Williams, when the dancehall star was refering to his daughter name Lizzy.
Get full report on the misleading text message here
Yesterday, Cable & Wireless regional fraud expert, Rudolf Miles, also took the witness stand where he testified that a Blackberry smartphone with PIN number 234BAE6D was linked to phone number 876-343-5588 and registered to Adidja Palmer, which is Vybz Kartel's government name.
However, Miles told defense attorney Tom Tavares-Finson that the date of birth for Adidja Palmer registered on Cable & Wireless network was December 12, 1980, But Kartel's real date of birth is January, 7, 1976.
More witnesses are scheduled to take the witness stand today.
The prosecution star witness is also expected to be back in the hot seat in the coming days.
Update:
Large group of Vybz Kartel supporters outside the court.
Update:
Judge chided a member of the juror for wearing a Barcelona Footbal club jersey to court today. The juror was visibly embarrassed.
Update:
Detective corporal Shawn Brown still on the witness stand. This morning he refused to answer a question asked by defense attorney Michael Lorne.
Lorne asked Brown if he had saw when group head of business risk at Digicel, Joseph Simmonds, signed his statement to the police. Lorne also asked the detective if he know who gave the order to request information from Digicel.
Shawn Brown then refused to answer the question saying it was inappropriate under the law. The judge agreed with the witness.
Check this page regular throughout the day for any new updates