Former President of South Africa Nelson Mandela is dead at age 95.
The anti-apartheid icon passed away peacefully at his home in South Africa on Thursday, December 5, 2013.
There were several rumors circulating on social media claiming the Mandela has passed away yesterday.
However, multiple news sources have confirmed his passing earlier today including CNN.
Wikipedia has also already updated Mandela's death.

The cause of his death is not yet known, but Nelson Mandela was battling a recurring lung infection for several months.
Nelson Mandela was born in the small village of Mvezo in Umtatu on July 18, 1918.
Mandela, who served 27 years in prison, served as South Africa's first black president from 1994-1999.
"He is now resting," said South African President Jacob Zuma. "He is now at peace. Our nation has lost his greatest son. Our people have lost their father."
Photo of Nelson Mandela and former Prime Minister of Jamaica Michael Manley.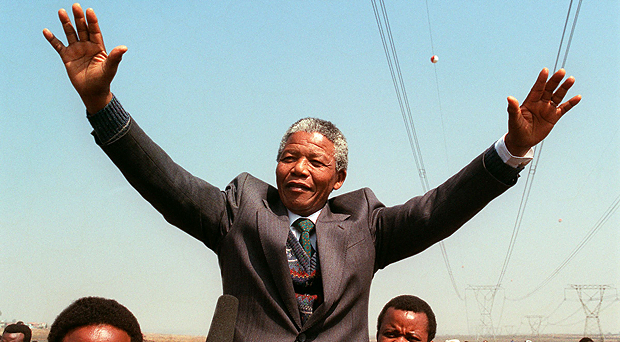 The motion picture Mandela: Long Walk to Freedom starring Idris Elba as Nelson Mandela and Naomie Harris as Winnie Madikizela was released on November 28, 2013.
Watch the trailer.