Dancehall queen Lady Saw has taken to Twitter to vent once again over more cheating allegations from her boyfriend of 17 years John John.
Saw and her producer boo relationship has been on the rocks for quite some time not but this could be the beginning of the end for the pair.
Last year Lady Saw revealed that John John impregnated several other females including her hairdresser and one of her neighbour.
Now Lady Saw is not holding anything back.
These are some of the Tweets she blast out today:
"Being me is no easy task not a day go by without someone trying to destroy me but the heavenly father I serve never fails me."

"Years ago I wrote a letter hide it then instruct my daughter to take it to the media if anything ever happen to me that's how afraid I "

"You ungrateful brute! You need to sell your apartment and pay me back all the money I gave to you to refurbish it and pay your mortgage for all these years"

"I was never good enough until my assets start piling N my money start flying fr my hands freely that's when I start hearing the word "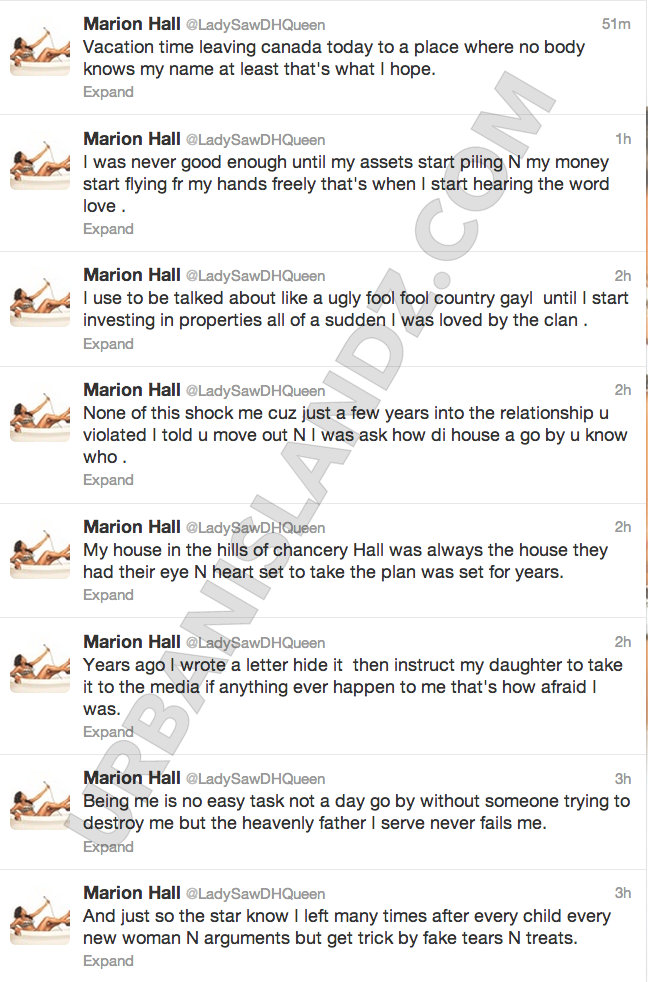 Earlier this year Lady Saw revealed that she is considering marrying John John who she has been dating for almost 2 decades.
"I am not allowing anyone to break up me and my man of 17 years," Lady Saw said in an interview.
"Once he is not with another man I am fine… Everybody cheat because I am not perfect myself, who is perfect cast the first stone… I have so many miscarriages so maybe these are the sons that he should get and I couldn't give him, so she can do the carrying and I do the marrying," Lady Saw continues.