One of hip-hop's most loving couple Wiz Khalifa and Amber Rose are sharing their excitement of becoming parents on the cover of the upcoming issue of XXL Magazine.
The two had a candid sit down with XXL's editor-in-chief, Vanessa Satten, where they dish on how they got together, Amber Rose having a natural birth, Wiz Khalifa's sophomore album O.N.I.F.C. [Only Ni**a In First Class], Wiz quitting weed for his pregnant fiancé and more.
See some excerpts from the interview below.
Amber On Wiz And Giving Birth:
"[H]e's just a genuine sweet guy. And that's what made me fall in love with him. And I just said, "You know what, I don't care if he's a rapper." I don't care if people say, "Oh, you're a gold-digger." I don't care if people say, "Oh, you went from one rapper to another," or whatever. I love him. I don't look at him as a rapper. I look at him as Cameron Thomaz, not even Wiz Khalifa. I just fell so deeply in love with him, I didn't care what anyone says."
"I'm so ready. I'm going all-natural. I've decided that I'm going to have an all-natural water birth. No medicine. I want those bragging rights! The next time Wiz has a stomachache or anything, I'll say, 'I popped out a baby all-natural.'"
Wiz On Recording His New Album With Amber At Home:
"I just gotta do it. The most important thing is knowing that she is there and I have to tend to my babies. This is my first child ever in life. I gotta go hard at everything. As hard as I go in the studio, I gotta go just as hard taking care of my baby and making sure she's alright, and I'm spending time with her and she doesn't feel neglected."
Wiz On Getting Together With Amber:
"I love my baby. She's gorgeous and it makes me look even cooler when I show how much I love her to other people… When I met Amber, she loved me for who I was. I had some money, but it was like to pay my bills and literally set myself up for a future. But I was wearing the same camo shorts and high-tops and Chucks. But she liked my swag and she liked me for who I was and I wasn't afraid of that… She didn't wanna date any entertainers or anybody in the business. She didn't know who she wanted to be with, but she knew who she didn't wanna be with."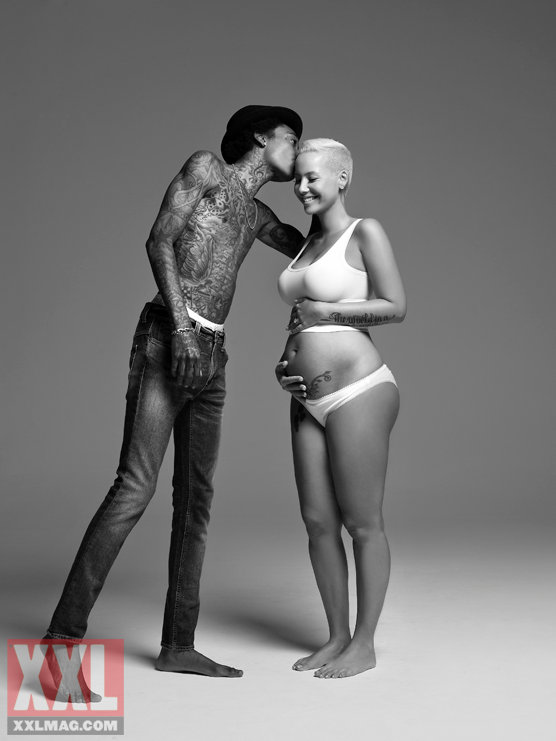 gallery