US base producer Dre Skull, the brain behind Vybz Kartel latest LP Kingston Story, has opened up about working with the Portmore Empire boss and producing dancehall beats.
In a recent interview with MTViggy, Skull said his first single with the self proclaim Worl'Boss was done in 2009 on his Mixpak records label.
We had done "Yuh Love" back in early 2009 and that was something arranged through the Internet, indirectly. About a year later, I was going down to Kingston to record with different people. I didn't have doing the Kartel album in mind. Due to circumstances, I ended up working mostly with Kartel. I think we did three tracks on that first trip…that was the first time we got to meet and vibe together in the studio. I was speaking to him one night and he got a better sense of who I was, and where I come from. I think at the end of the second night working together, he had voiced three tracks and he made an off-the-cuff comment that we had made a mini album because the songs had a certain feel. And that kind of planted a seed in my mind about doing an album with Kartel.
Really, I give him all the credit…I don't know if I would have been bold enough to think, "Oh, I should do a whole Vybz Kartel album" before that trip, and before he said that. He's unbelievable to watch work—Amazingly quick and inspired—[so] naturally, I was excited with the prospect that he'd be into doing that. We kept in touch over e-mail and penned songs. And after that, I kept on going toKingston repeatedly to work on the album.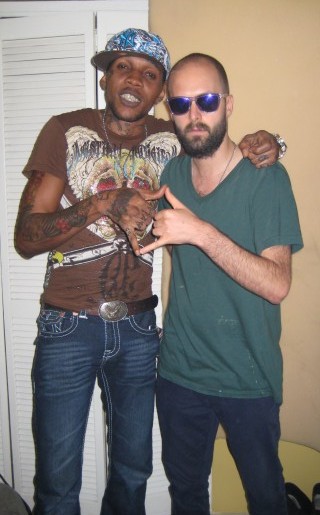 Dre Skull said he has been a huge fan of Jamaican music for a long time before starting to produce.
No guide or mentor. I've just been a fan of different Jamaican music for a very long time – way before I tried to produce it. I started doing some dancehall in 2004. At that time I just didn't have any personal connection to figure out how to get my stuff voiced, so [the songs] just sat on my computer doing nothing. But I did keep all those project files with the idea that someday I'd figure out how to get to Jamaica and link up with vocalists.
Even the track that became "Yuh Love," I had put that together in 2006 and it sat on my computer for two-and-a-half years, doing nothing. Once I came a certain distance in the music game and as a producer on my own, I made a concerted effort to get in touch with [dancehall] vocalists. The first track I did with [a] Jamaican vocalist was with Sizzla. It was a matter of circumstance – something I wanted to do for a very long time but I felt like I didn't have the connections. It got to a point where I reached out and made the connections and figured it out.
The talented producer said he is doing work with other dancehall artists such as Tifa and Natalie Storm.
I have a really great song I recorded with Natalie Storm [of dancehall trio TNT], and I'm working on making that right now and likewise with Tifa. Both of those should more or less be out in six months.
I still have an EP with [Bounce rapper] Gotty Boi Chris and I have this collaborative thing with this producer in the Netherlands, Oliver Twizt — we have a single together. Doing a full-length album was pretty fulfilling, and I am looking to do more. In a lot of ways, it's a question of finding the right potential partner…a shared aesthetic [would be helpful].
Kartel and I had a lot of similar frames of reference and it was easy to talk about music. That's important collaborating with someone.