Jahshii was present at the funeral of his brother David Clarke, who was laid to rest on Sunday at a small funeral featuring friends and family members.
The dancehall artiste shared his grief in several posts on his Instagram account where he, along with family members, bid their final adieus to his brother, who was killed in late September.
According to a report from the Jamaica Constabulary Force, David, 29, was killed by armed men around 2 am after they entered a yard in Grants Pen where Clarke and another man were hanging out. Clarke, who appeared to be the target, was killed while the other man was injured.
It's unclear if anyone has been arrested for Clarke's murder. The incident has no doubt affected Jahshii deeply, and many also believe that his brother's death could be linked to the earlier attack on his life in July. The artiste was reportedly out celebrating his birthday at a club in Market Place, Kingston, and while leaving, armed men opened fire on the vehicle he was traveling in.
Jahshii has kept a low profile since and was seen for the first time in public since the earlier incident at his brother's funeral. "Pain in every language," the wrote on Instagram.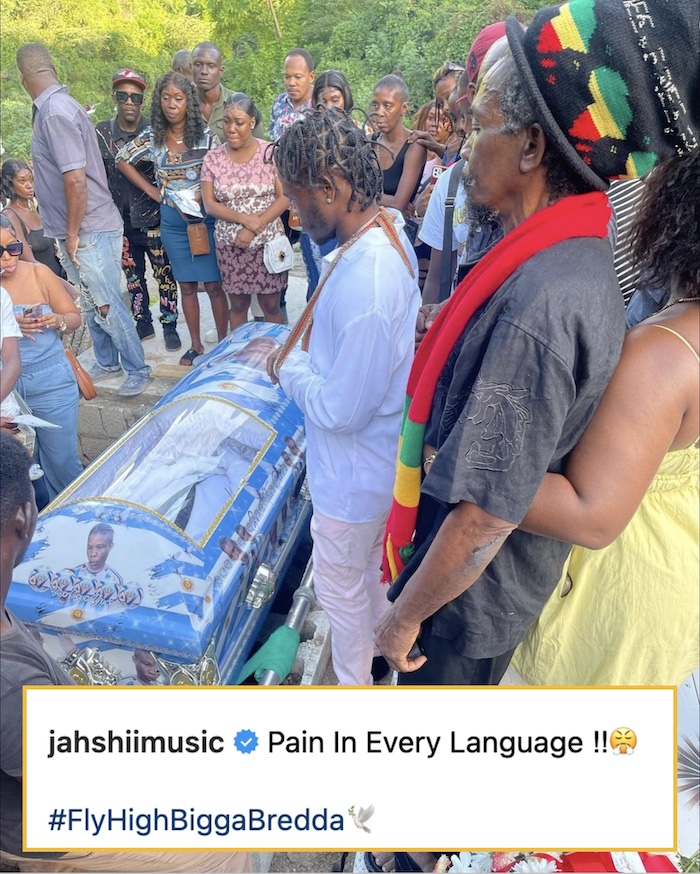 He also received words of encouragement from fans and followers, including the media fraternity. "Wull it me breda condolences to you and the family again," Charly Black wrote in the comments. Bounty Killer also wrote a heartbroken emoji and the dove and praying emojis in the comments.
"Stand firm like the Rock a Gibralta mi Gg dem cant move yuh," another fan said. "Keep strong bad blood jah know youth real soja get hard to fight believe. Don't give up youth," another fan wrote.
Jahshii also lost one of his closest friends recently. His producer, Mabreco "Tadmar" Watson, 29, was killed in late December in Grants Pen following what police said was a confrontation with police.