City Girls rapper JT has stepped forward to address rumors that she was in an altercation with Cardi B collaborator GloRilla backstage at the VMAs three weeks ago.
The rumor was published on Saturday night by Armon Wiggins, who claims there was tension between the former "F.N.F. (Remix)" collaborators because GloRilla felt that JT had snubbed her. No actual evidence of the incident has been shared, and GloRilla has remained quiet.
However, JT later denied that she was in a fight or that she was beaten up after fans dug up a video from the night of the VMAs (Sept. 13) in which a blogger asked her to give a 'quote of the day' while outside of the event venue.
"You win some, lose some but you live to fight another day," the rapper said.
Many felt that her quote might be hinting that something might have happened and she lost the fight. However, JT later shared a series of now-deleted tweets where she denied there was an altercation. "Does this look like someone who got they a$$ whoope? I know y'all lives hella boring & y'all love to believe that, but it didn't happened. Next caller!" the tweet read.
Her response was directed to someone asking if the reason she mentioned fighting was because she was beaten up. Another also said she didn't look like "you'd get you're a$$ beat," to which JT responded- "What does that mean? I look rough? Don't say that."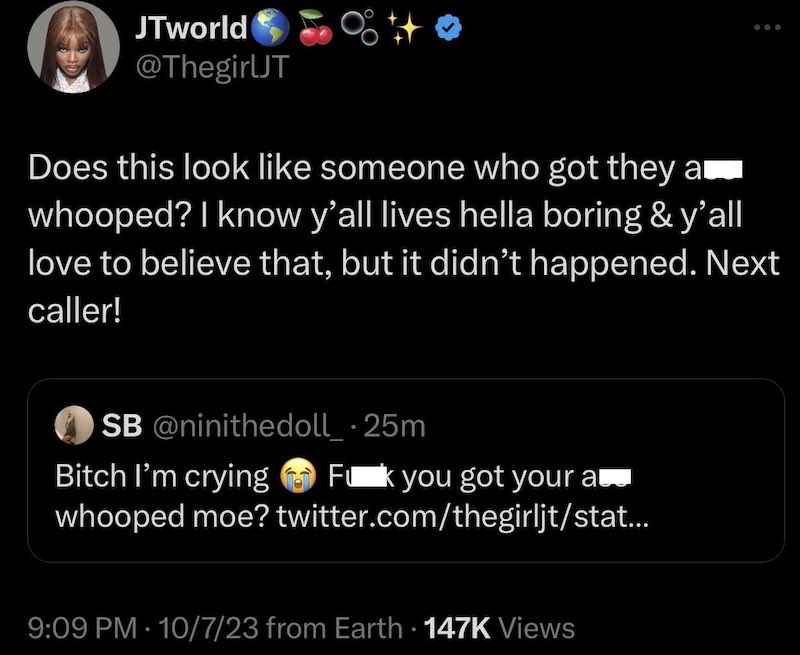 In another tweet, she said, "The caption clearly says after the VMAs[.] I was gonna let y'all have fun but y'all taking it [too] far, nothing happened. You can all iron your khakis for school tomorrow."
One Twitter user, Nate Rerun, said he saw the women argue, but there was no physical altercation. "I was at the VMAs, JT & glorilla argued but nobody got hands laid out on them lmaooo relax. Sexxy & her publicist stepped in between & stopped it so it wouldn't get physical. End of story," the account said.
There are reports that GloRilla spoke about the incident at Diddy's after-party, but the "Tomorrow" rapper has been quiet on social media.
JT & glorilla had an aItercation at the VMAs ? ?????? this wasn't on my bingo card… pic.twitter.com/Kso6ANZfaK

— welp. (@YSLONIKA) October 7, 2023
In the meantime, some fans have speculated that the tension between the two young rappers could be because of their particular allegiances to rappers Cardi B, with whom Glo has collaborated, and Nicki Minaj, with whom JT has been featured.
The two senior rappers have been feuding for years, and their beef appeared to heat up at the VMAs where Minaj hosted.