Erica Mena is standing tall behind her remark referring to Love & Hip Hop: Atlanta cast member Spice as a "monkey," and she's unapologetic as she expresses that she would do the same thing all over again to defend her son.
The final episode of Love & Hip Hop: Atlanta aired this week, and it has left many still talking about the racist comment Erica Mena made about Spice. Although Erica was fired from the show weeks ago, the franchise continues to air and exploit the issue as Erica is seen without remorse for her actions while talking to the rest of the cast.
The cast members, including Kirk Frost, Yandy Smith, Karlie Redd, and others, sat down for interviews about the situation.
"To me, it turned from a one-on-one to like one on the culture," Yandy says, while another member said that in an argument, her go-to reaction is never to use a racial slur.
Spice also gets emotional and fans herself when asked how she felt.
"It is not just about me. Erica came for an entire race. This racial slur is over 100 years older than me. It is deeply rooted into black history of how they used to dehumanize us, how they used to sell us and consider us animals," Spice said.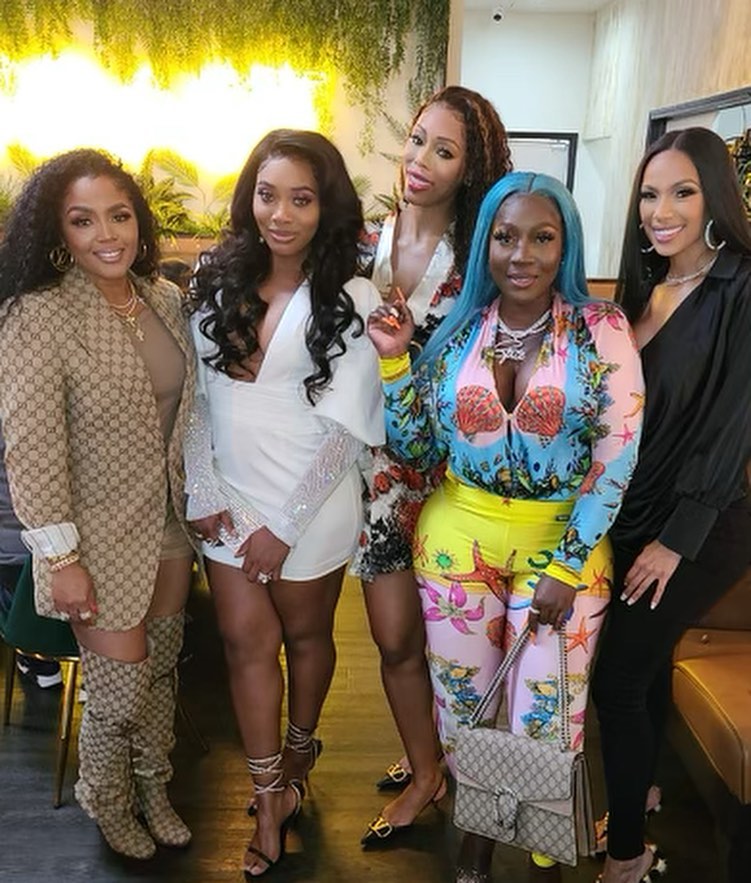 She continued, "It's ok to say oh Spice was ok for wrong for saying whatever I said but it's a whole different thing when someone's response is to be racist or someone's response is to come for black women and dehumanize them."
Kirk also said that just because some go low doesn't mean another person has to "go to hell."
Karlie also said using a racist slur is not divorced from racism. The women also confronted Erica after returning from the Bahamas while at Bambi's divorce party.
Yandy also sought to educate her about why her comment was racist, but the latter was adamant that she was "just as black" as everyone else and that because she had black children or a black ex-husband, she couldn't possibly be black.
"If Erica had given a real sincere remorseful apology I would have went to bat to fight for her," Sierra said.
"Calling a black person a monkey, I was offended," Yandy said while Erica cut her off- "you were offended because you chose to be offended."
Erica continued, "You know me. No one's going to violate me and my child, there's no boundaries at that time."
Yandy, however, tells Erica that by calling Spice a monkey, she insulted people of African descent.
Erica adds, "Was it wrong? Yes. But at the same time, how f**king dare she? The b**tch crossed the line, she violated me by coming for my son and I will do it all over again."
When Yandy seeks clarification on whether she would call Spice a monkey all over again, Erica quickly changes her tune and says she wouldn't say the same thing, but she would violate Spice for talking about her son.
Erica also goes further to defend her racist remark, noting, "I'm Puerto Rican and Dominican, I have black in my family, I have black children, I married a black man, my sister is the same color as you we came out the p***sy. There's not a racist bone in my body. I'm just as black as all of you."
Erica Mena's explanations did not cut it for Sierra Gates, who said Erica was in for a wake-up call.
"Erica with two black children will quickly learn how this world treats people of color with darker skin. Colourism is a real thing and I never want to be a person that furthers that divide. I would more try to bring us together," Sierra said.
The women also comment on the consequences of being racist in today's society, noting that the world was advancing towards zero tolerance for racism.
In her defense and taking accountability for the role she played in the drama, Spice says she takes full accountability for coming for Erica Mena's parenting.